Social
Reporting Metrics

That Matter
Useful reports that quickly tell you what's working—and what isn't—with your social media efforts.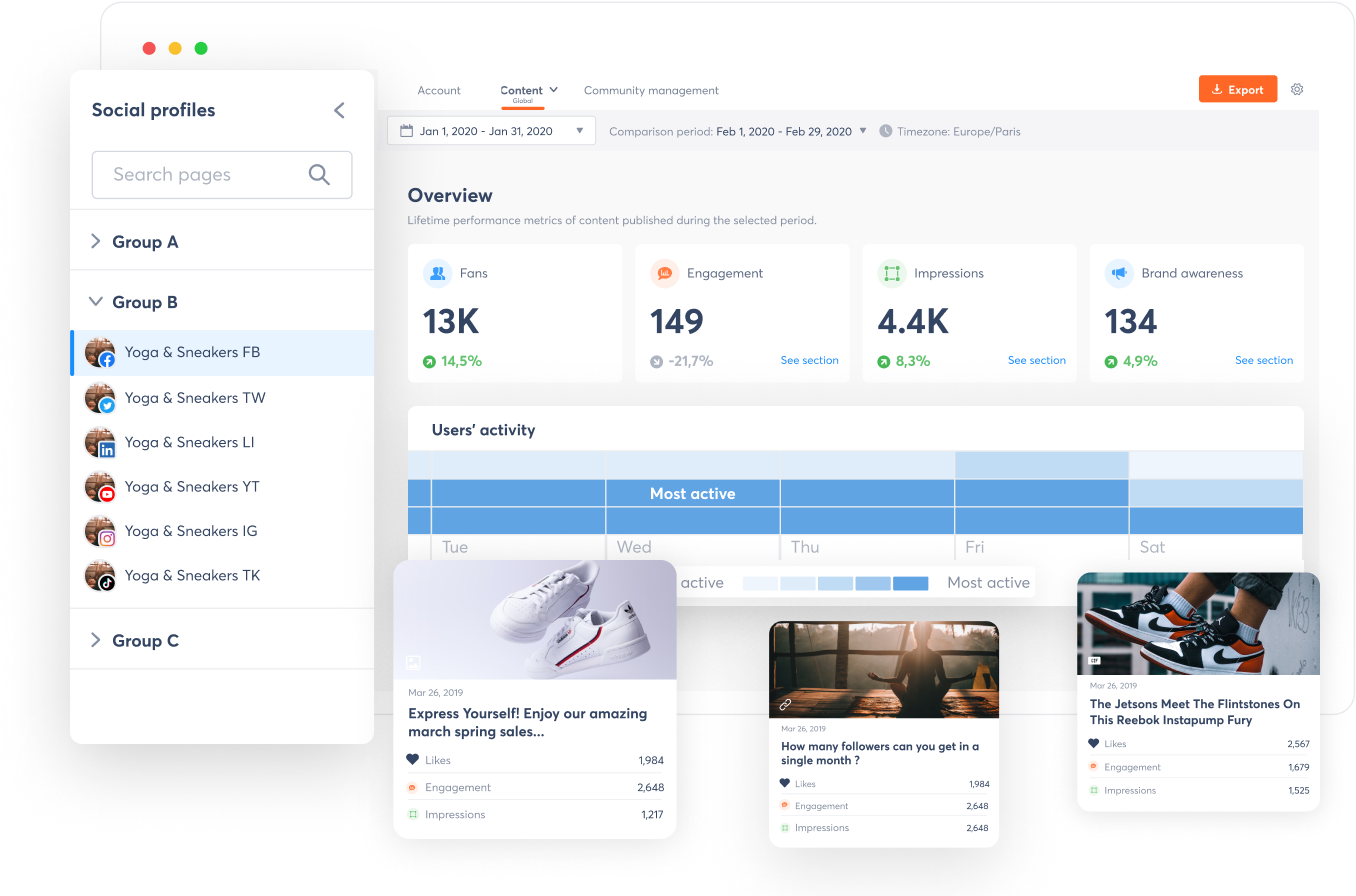 Improve your social content
strategy
Detect
what content performs best,
where, and when.
Track
trends and team performance.
Get recommendations
on your next social content move
with user behavior data.
Use actionable data to inform

your strategy
Focus on which content performs good, better, and best on each social network
Discover the organic reach, paid reach (Facebook only), total reach, clicks, and number of engaged users for your content.
Detect major trends in your social media activity
See how many followers you gain or lose, times your content gets viewed, and interactions with your content.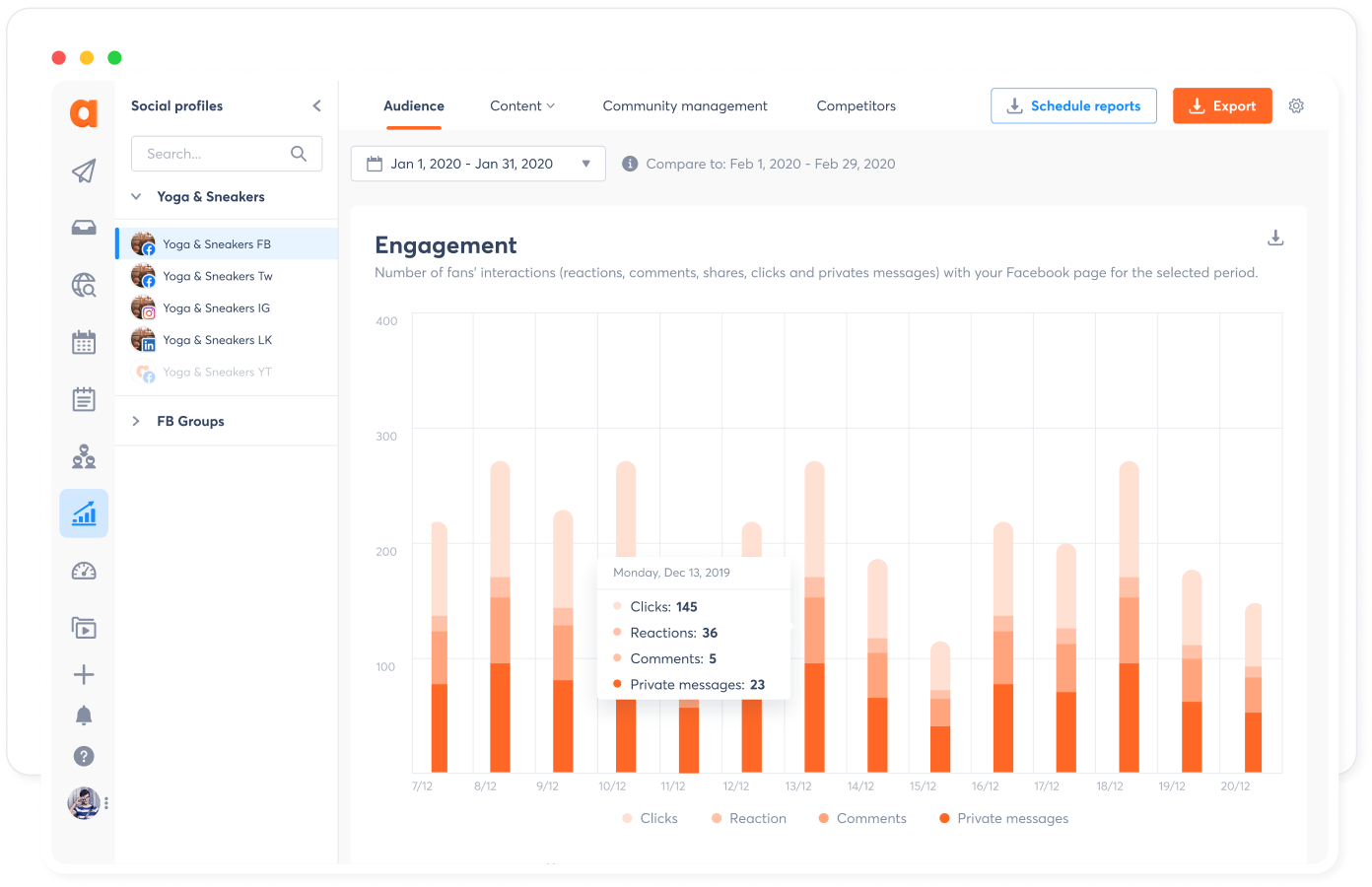 Measure your team's performance
Easily monitor response times for every team member to ensure all incoming brand conversations are handled fast. Track replies and comments reviewed, hidden, and deleted.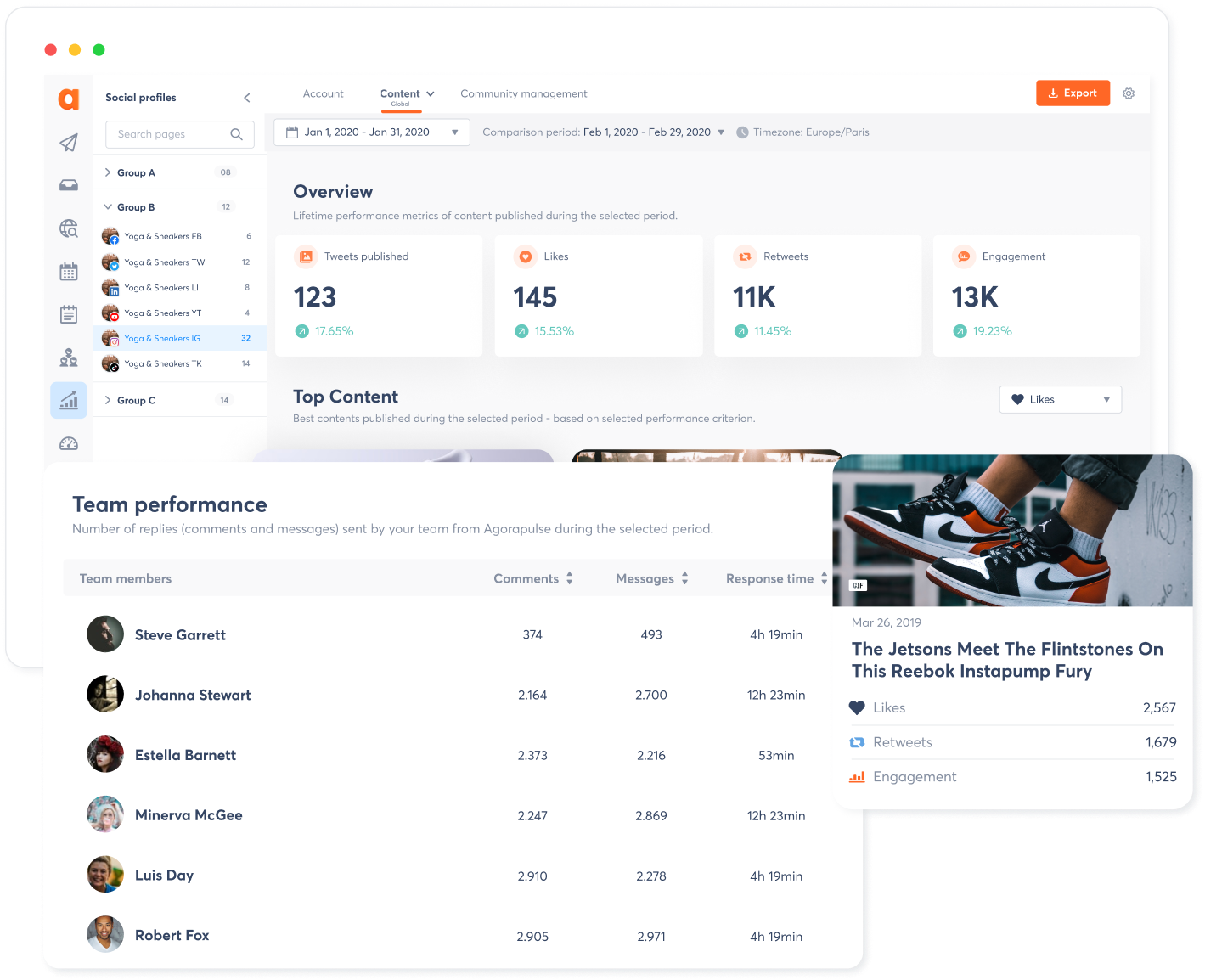 Cut reporting time
in half
Power Reports
Create custom reports based on the metrics and date ranges you choose, across multiple social profiles. You can also compare time periods and set automatically scheduled reports to your email.
Dig deeper into the data with CSV exports
Download a CSV file for a detailed analysis of your social content.
Your reports
everywhere
Our mobile app keeps you tuned into the chatter from your Android or iOS device no matter where you are.
"I actually can't say enough great things about the reporting with Agorapulse. I feel like that is my job security every month."
—Stoney Creek Social Media Agency
"Agorapulse is so intuitive in its growth of services, from the reports to the shared calendar. I have used many social media software, and this is, by far, my favorite. They really listen to customer feedback, and the customer service is very helpful."
—Paola Fuster, F2 Labs
Frequently asked questions
Does Agorapulse have tag/label reports?
If you use labels on your inbox or published content, you'll be able to see your label distribution in your reports. Export your content reports and sort by label to surface campaign metrics.
Can you track competitors performance (on Facebook)?
Your Agorapulse subscription gives you one or more competitors (depending on your plan) to track your Facebook performance against your biggest rival. Additional competitors can be added for a small add-on cost.
Does Agorapulse have Instagram Stories analytics?
Each Instagram report has a separate section dedicated to the metrics of your Instagram Stories.
Can I track the performance of my Instagram reels?
Yes! You can track the performance of your Instagram Reels, posts, and Stories via the content report.
Does Agorapulse track team performance metrics?
Yes! You can use our community management reports to easily track your team's inbox activity and response time.
Can I schedule my report so I receive it on a regular basis?
Power Reports, a set of advanced reporting features available for all plans as an add-on, allows you to schedule reports on a weekly or monthly basis. You can schedule the report to as many recipients as you'd like, including those not subscribed to your Agorapulse plan.
Does Agorapulse offer customized report options?
Power Reports, a set of reporting features available for all plans as an add-on, gives you a wide range of customization options.
Social Media Publishing
Optimize every piece of content you post to your social media profiles.
Social Media Inbox
Easily manage all your incoming messages from one place.
Social Media Monitoring
Find out what everyone's saying about you—and your competitors.