Overview
Agorapulse schedules and publishes to Facebook (pages and groups), Twitter, LinkedIn, and Instagram — or all of them at once!

Bulk uploads make it easy to fill a month's content calendar in minutes. Posts and images can be uploaded in bulk to schedule or queue and repeat.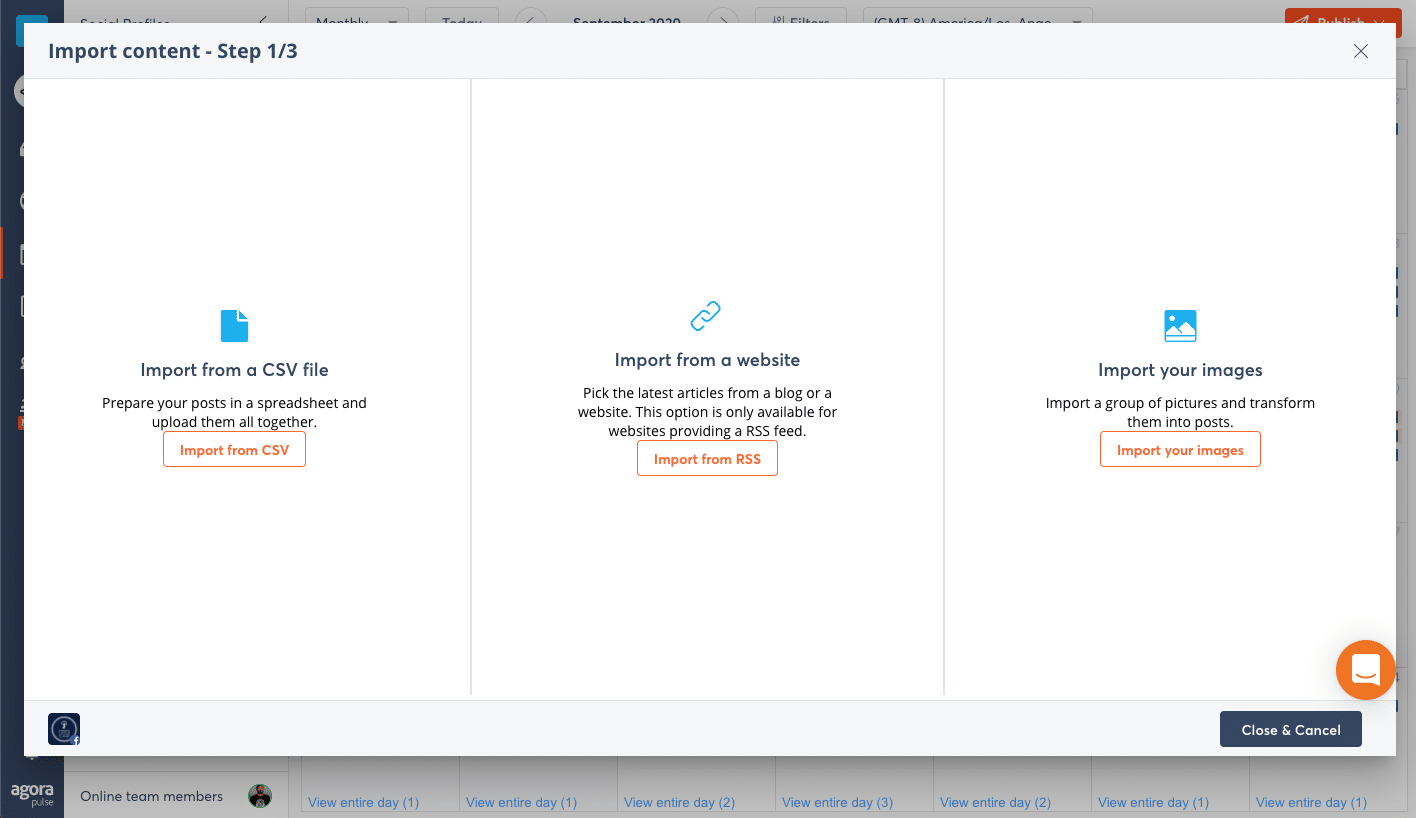 The RSS option enables you to collect previous blog posts from a website or blog, select the ones you like and create posts out of each one to schedule or queue and repeat.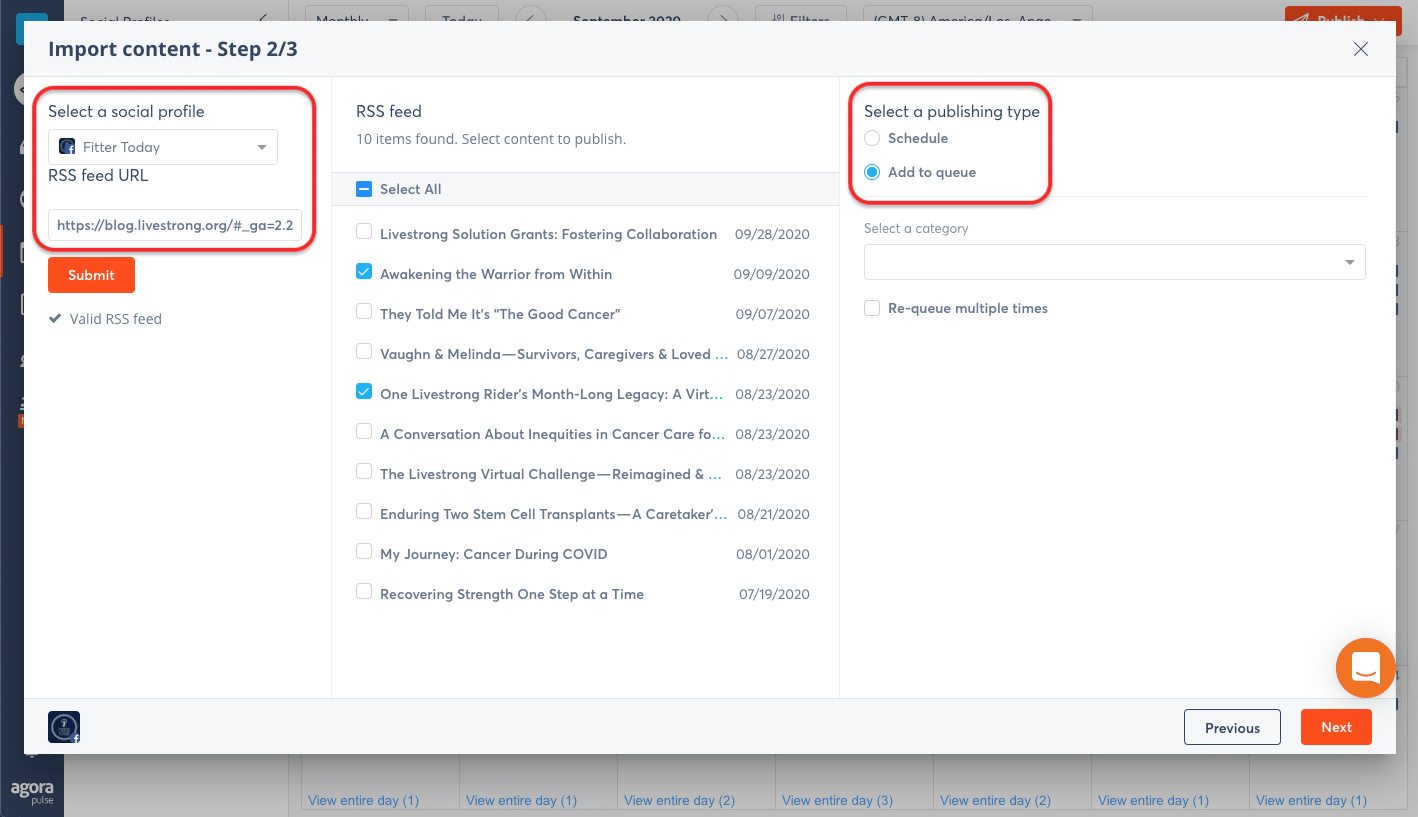 Automatic publishing is made possible with publishing queues (sets of recurring time slots that can be separated into topics or categories). Posts added to your queue will get in line to be published automatically upon the next available time slot.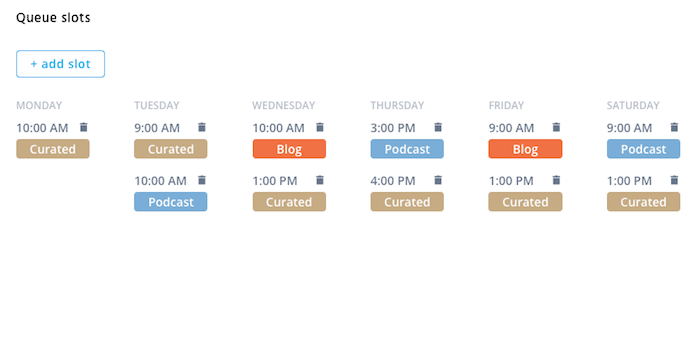 Scheduled evergreen content can be easily rescheduled or repeated.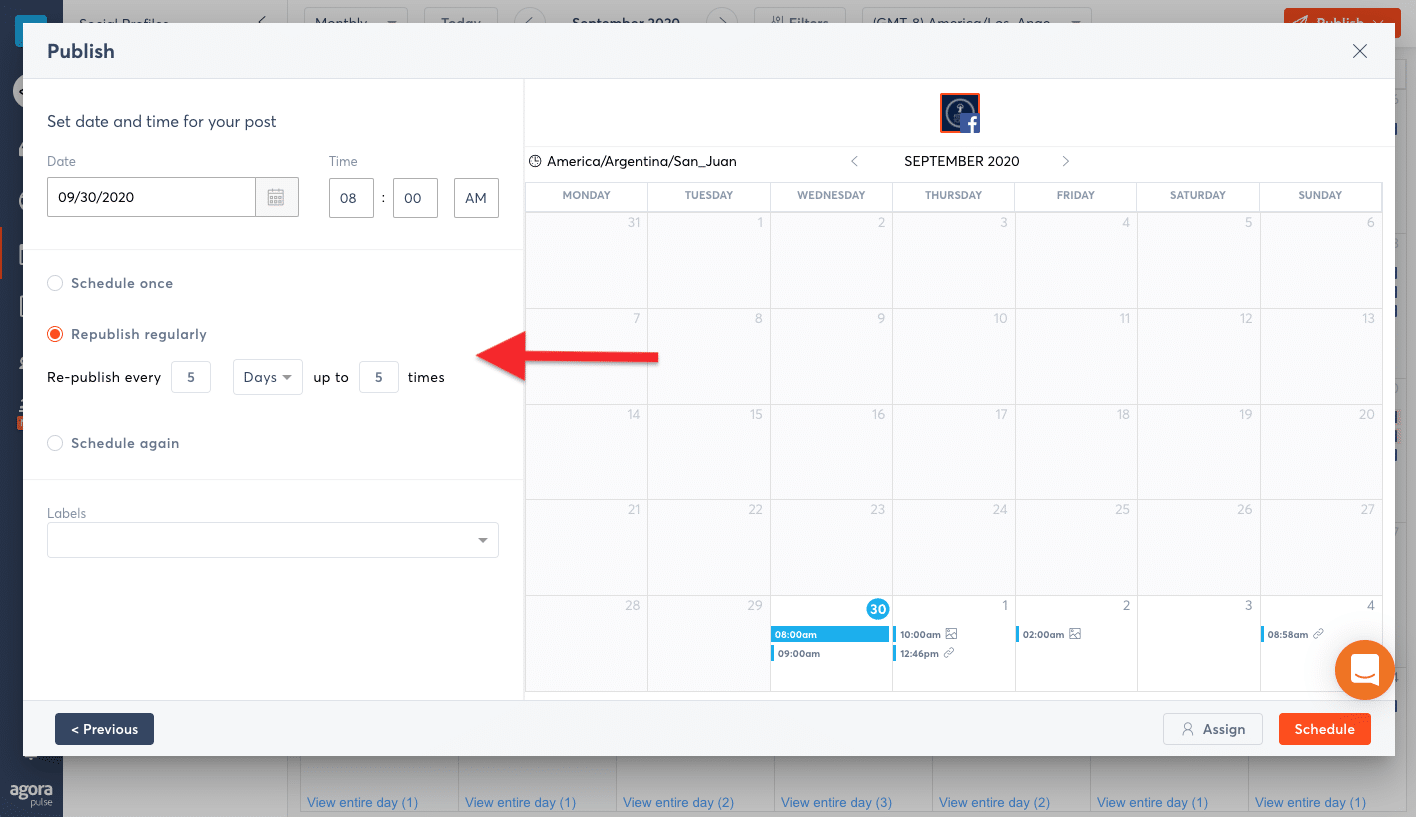 Queued evergreen content set to repeat will get back in line to be published again like kids on a water slide.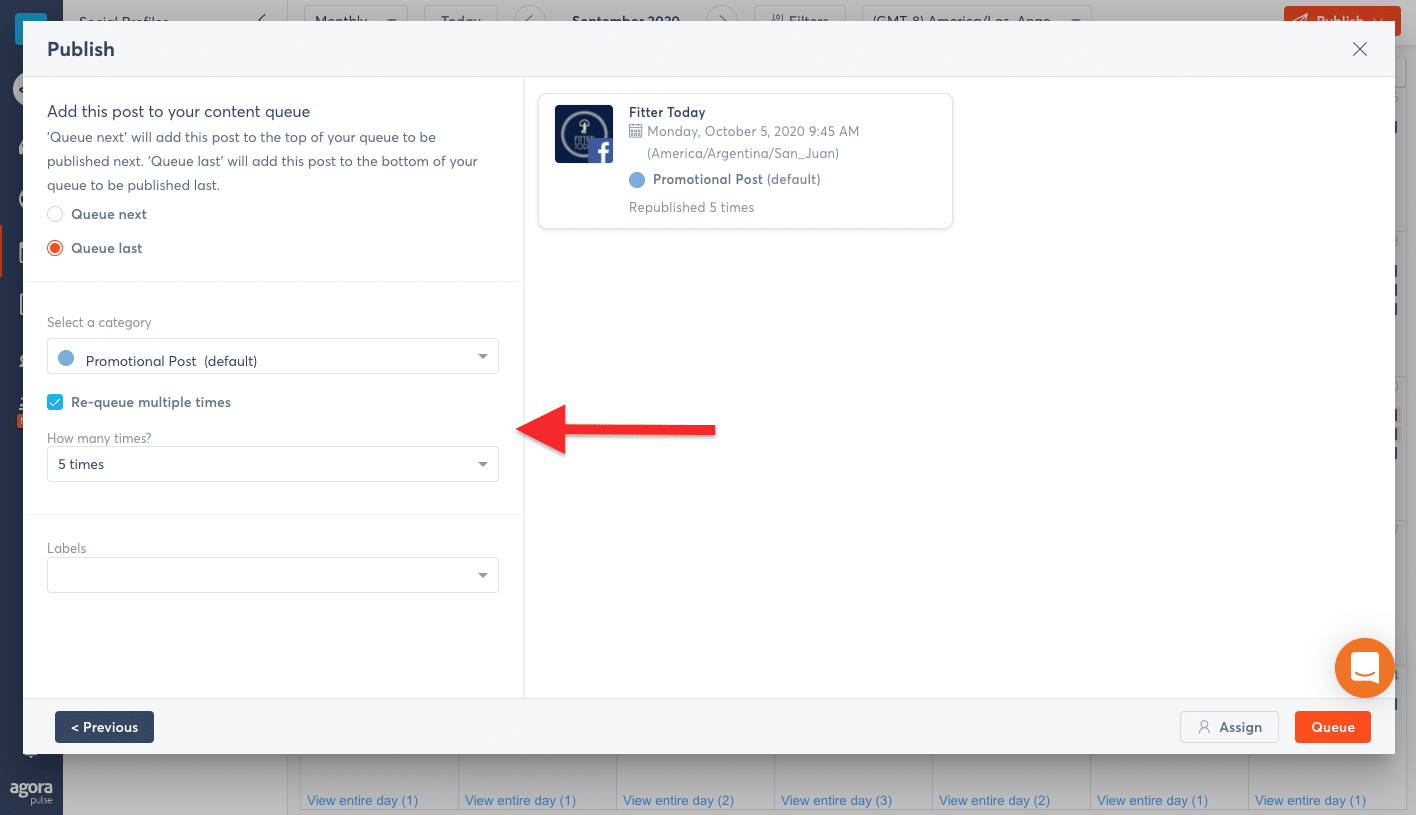 Your team can collaborate by setting up publishing workflows and assigning content to be approved.
Open Agorapulse in another tab and follow along!
Publishing as one or multiple social profiles
You can schedule, queue, or publish a post from anywhere in Agorapulse.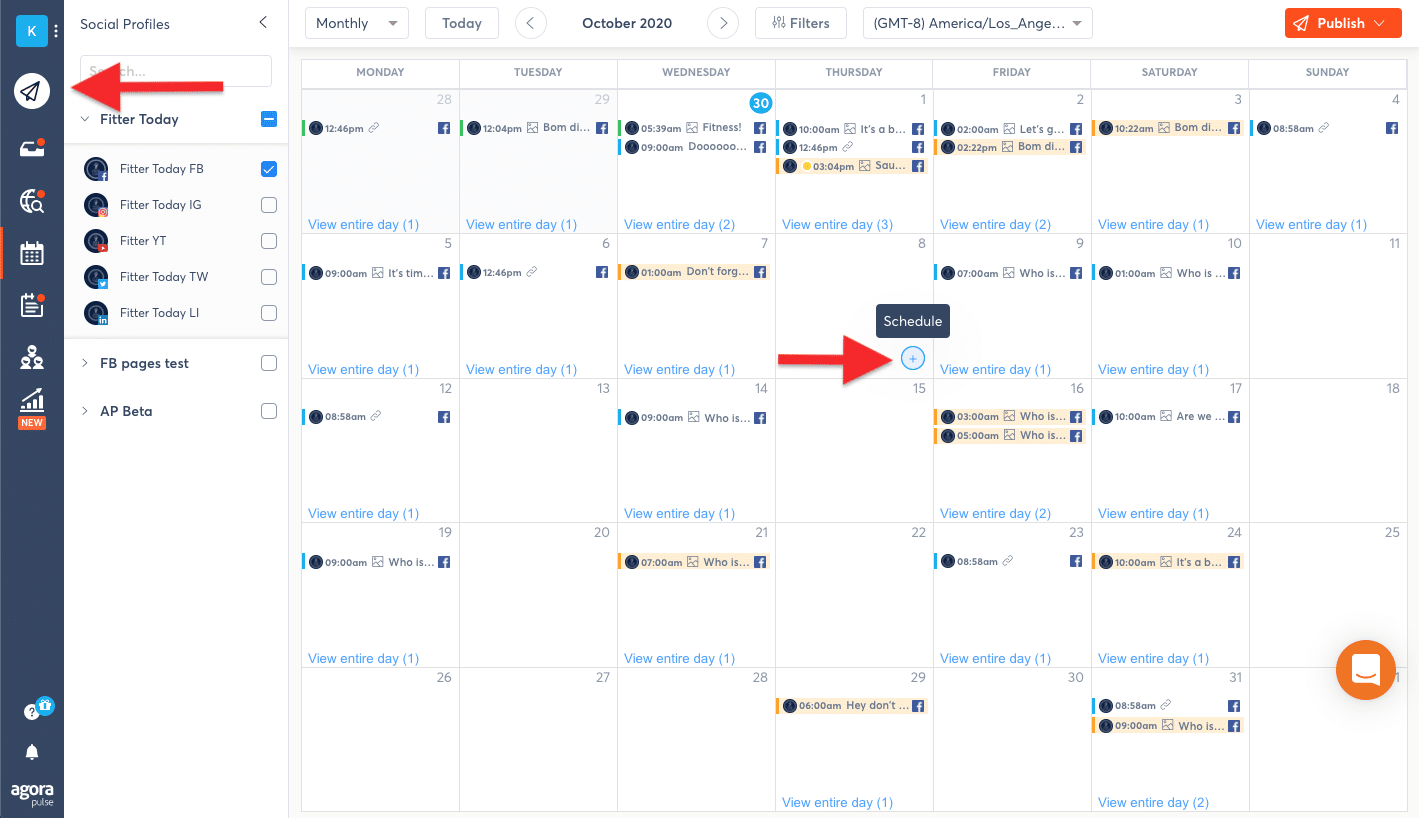 Select which social profiles you'd like to use to publish this content. Your tweet might also make a great Facebook or LinkedIn post — so save time and publish your message to from multiple profiles across multiple social channels!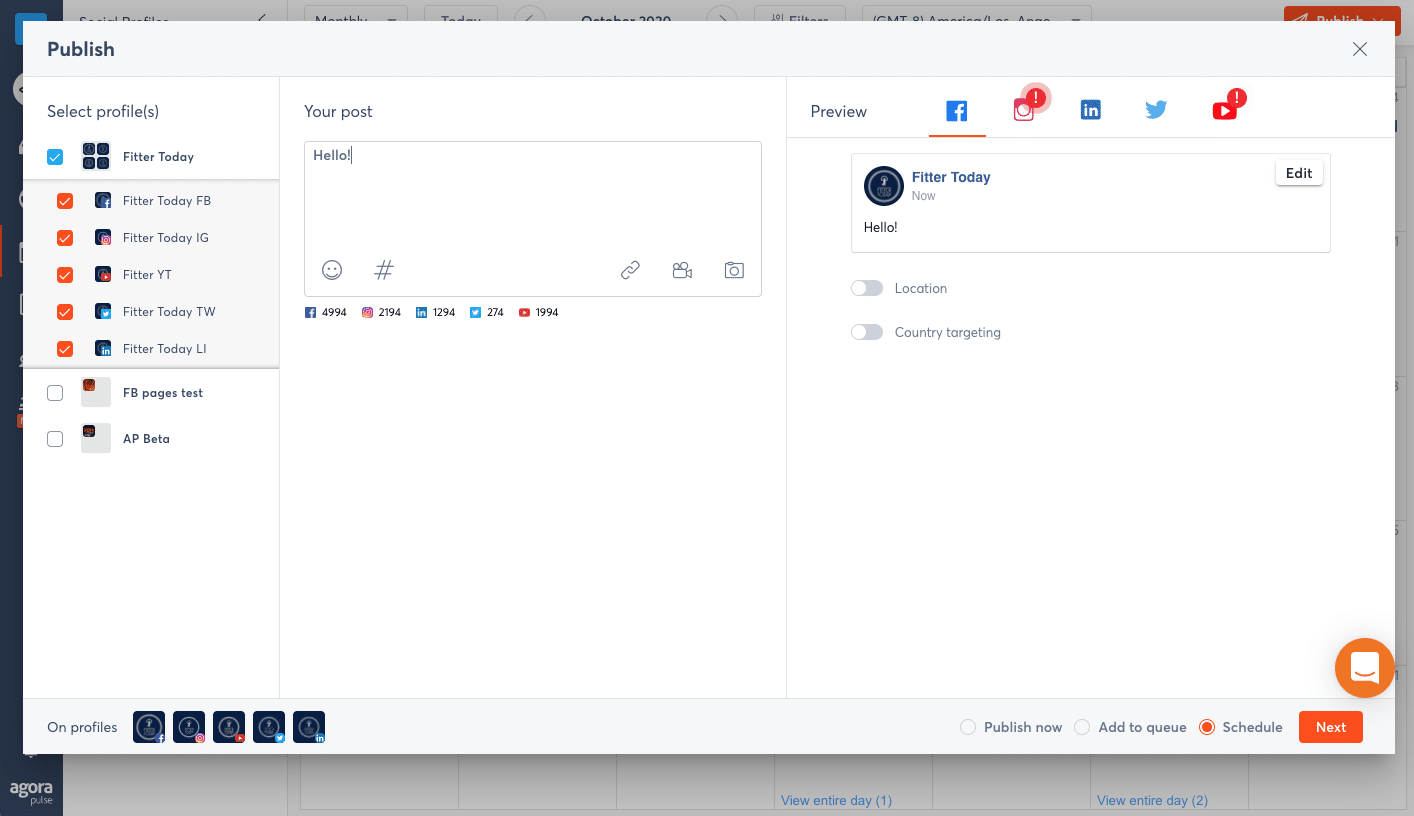 Create your message. Type the @ symbol to mention Facebook pages, Instagram or Twitter profiles.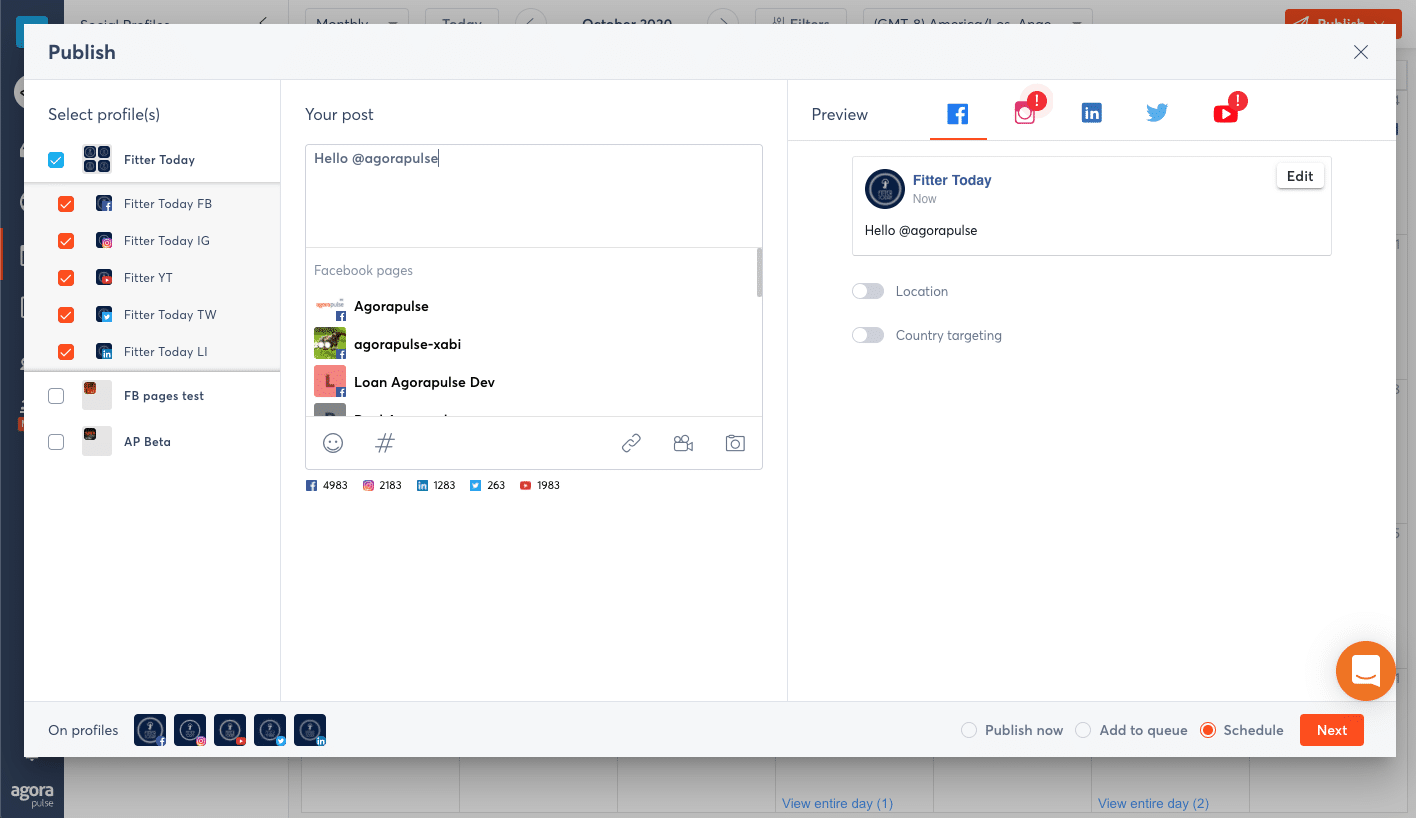 Add an image, video or a link. Links will autopopulate with a default thumbnail image. You can remove this image or change it by uploading a new one.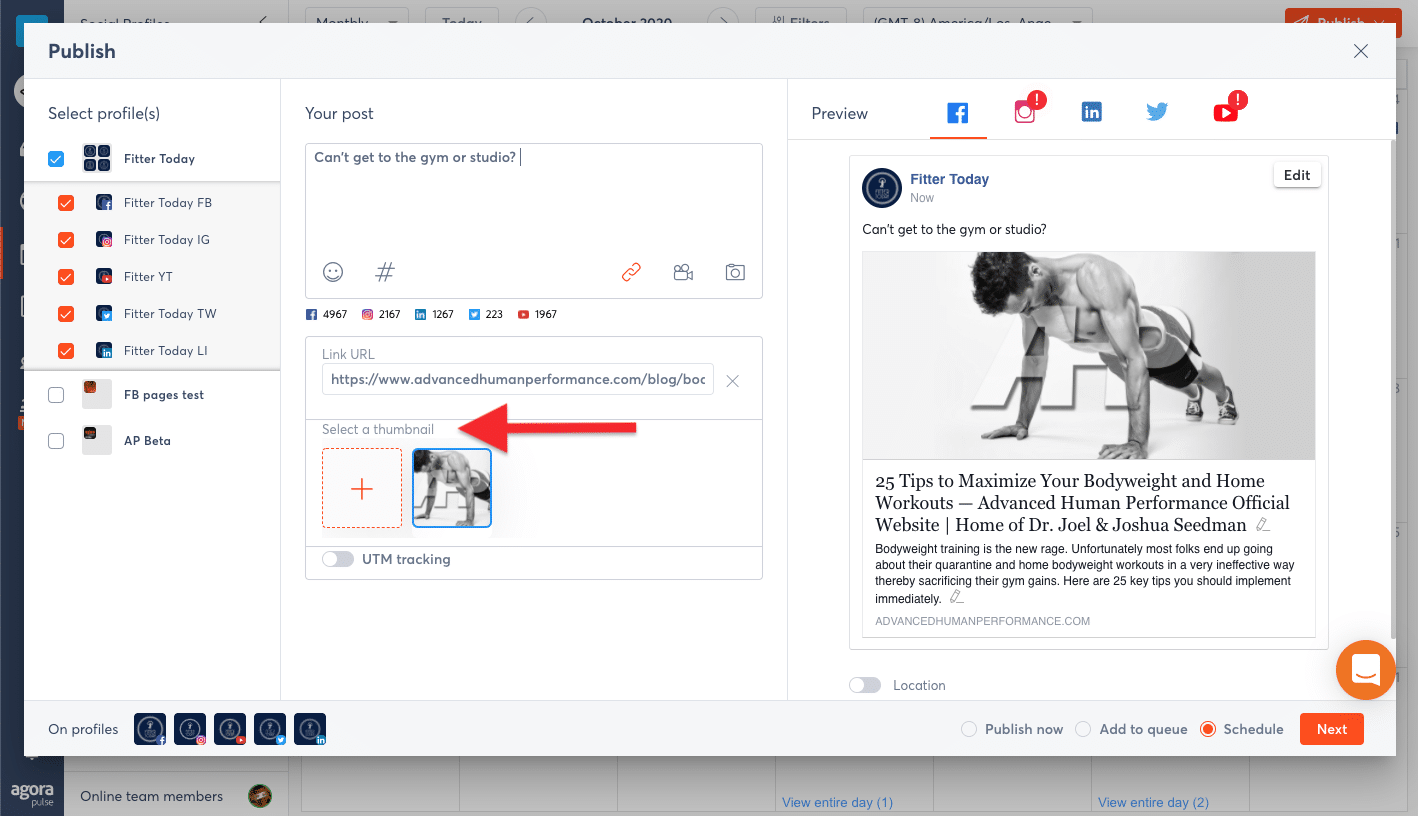 Got a lot of hashtags to add to your posts? Click the hashtag symbol to create or add pre-populated hashtag groups to your post.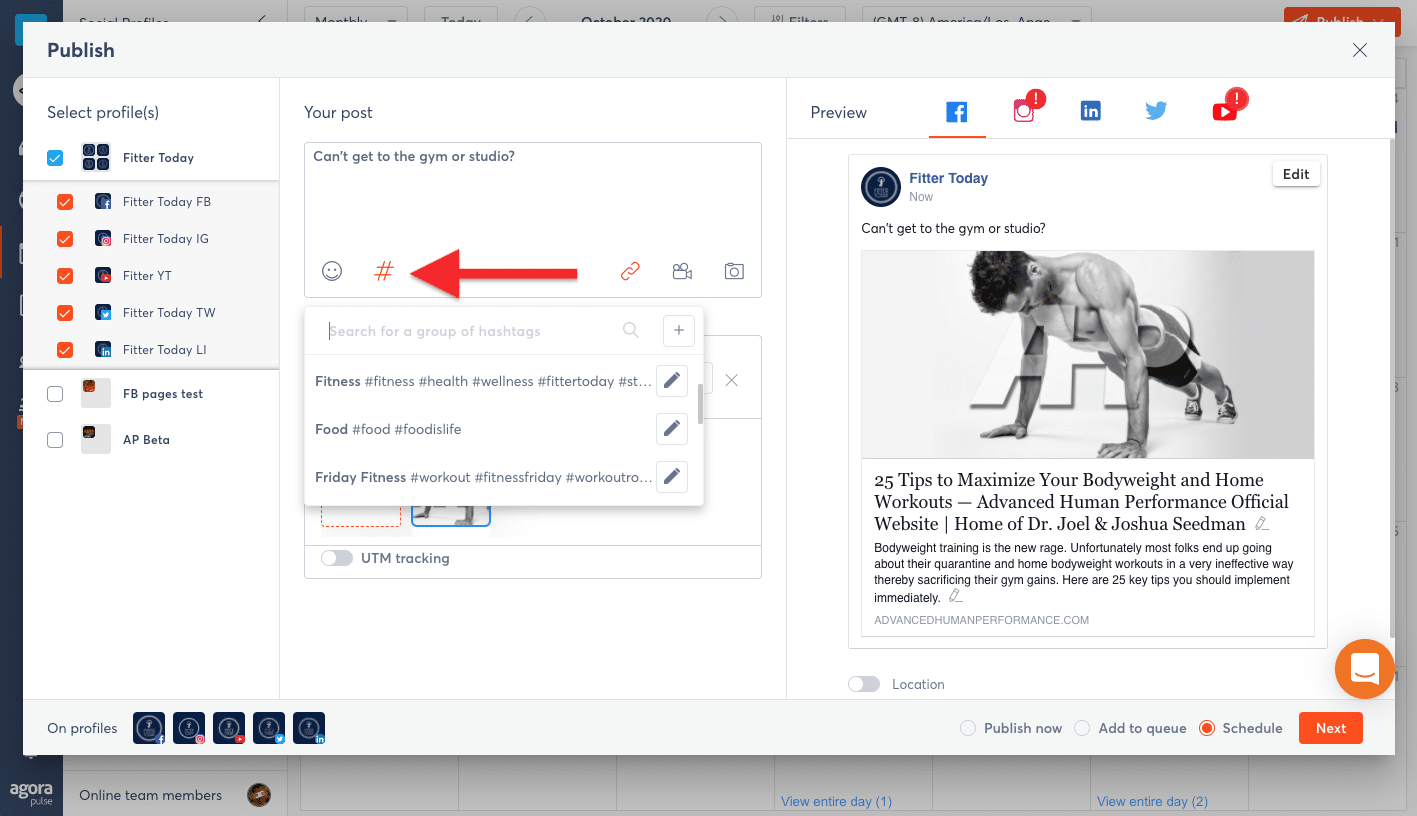 Add UTM Parameters to any post with a link in order to track their performance. You can add as many custom parameters as you like.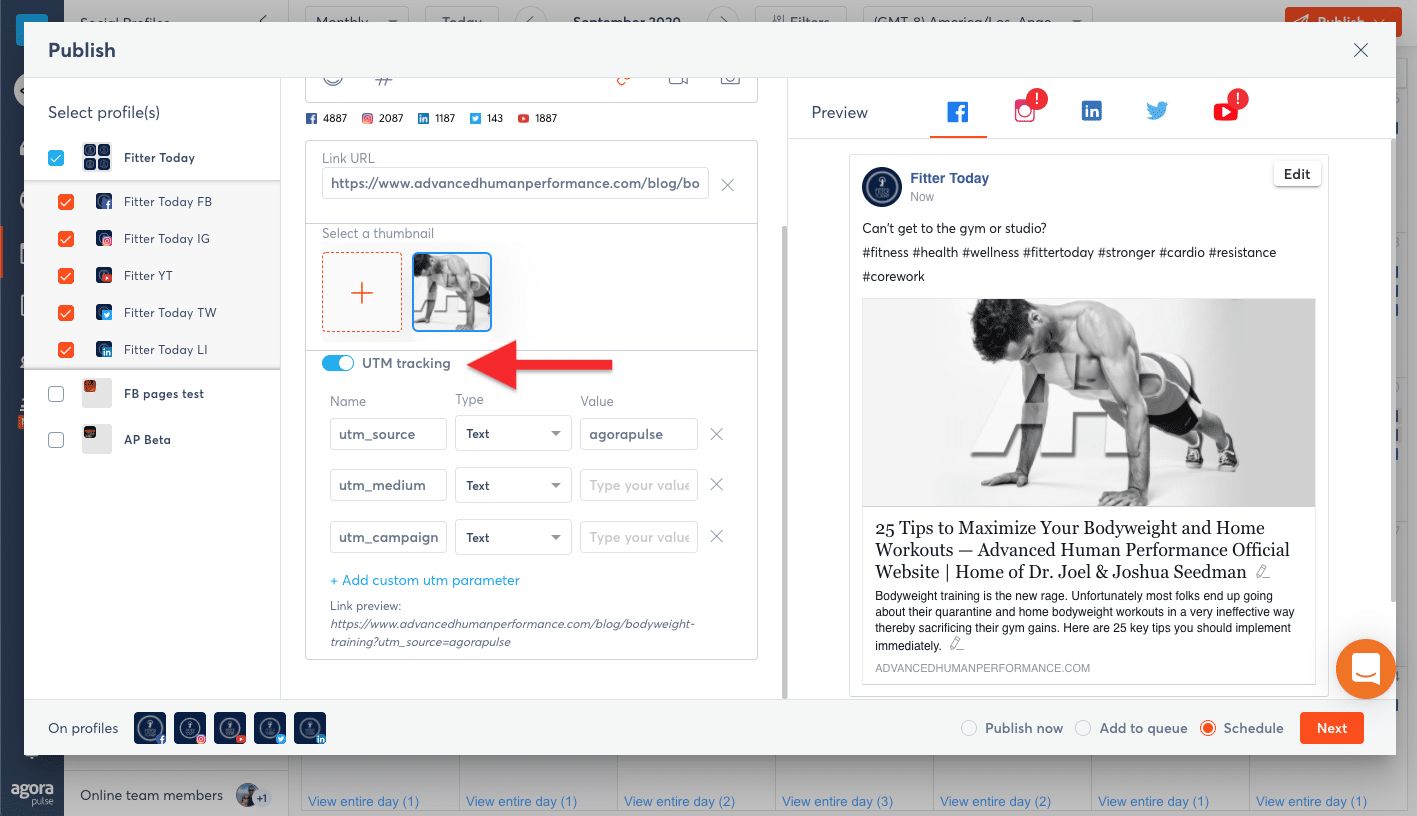 You can preview how your post will look on each network by clicking the network's icon above the preview window.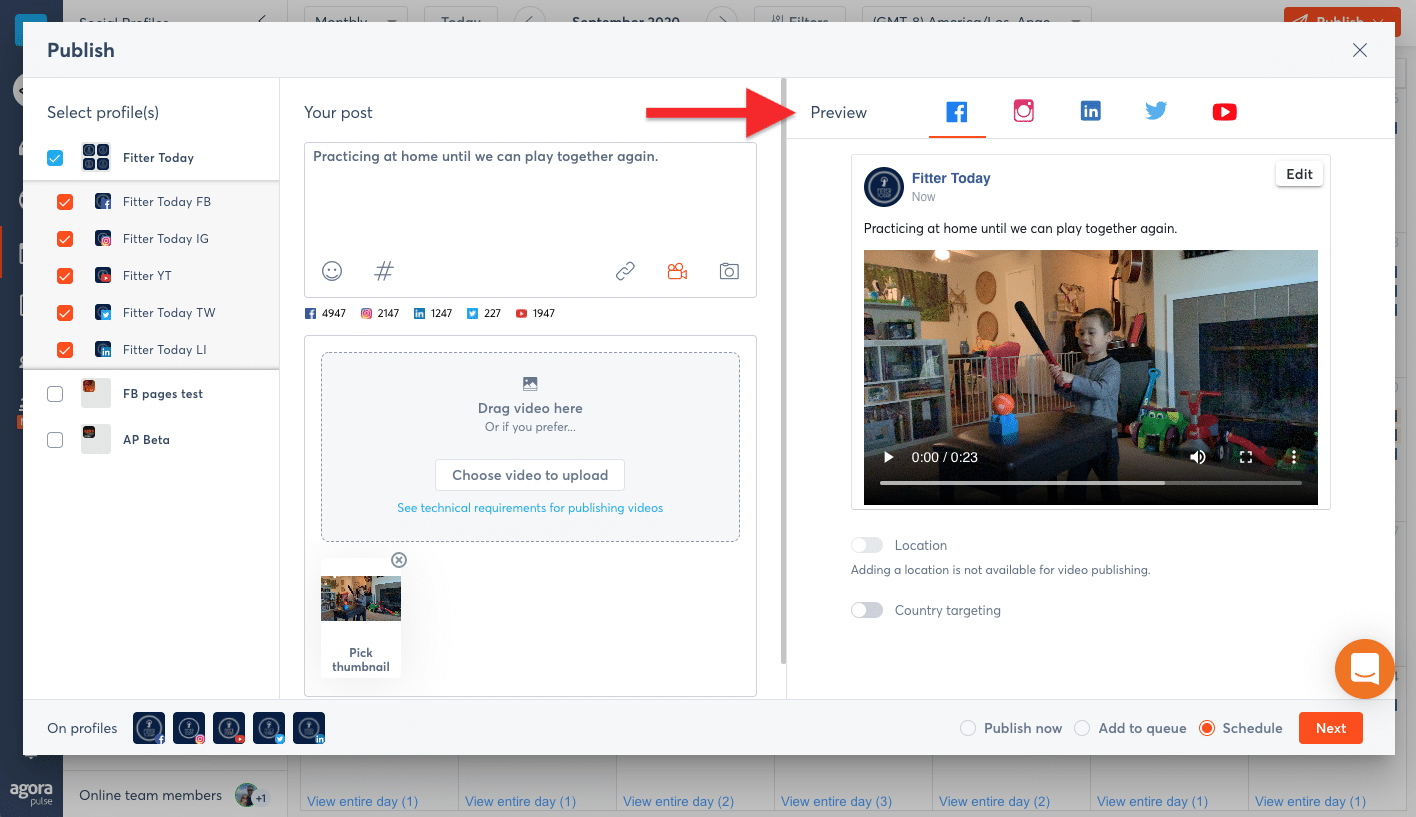 The preview window also allows you to edit your post for each social network. Edits made for one network won't affect the others, so you can shorten your content for Twitter, lengthen it for LinkedIn or add hashtags for specific networks but not others.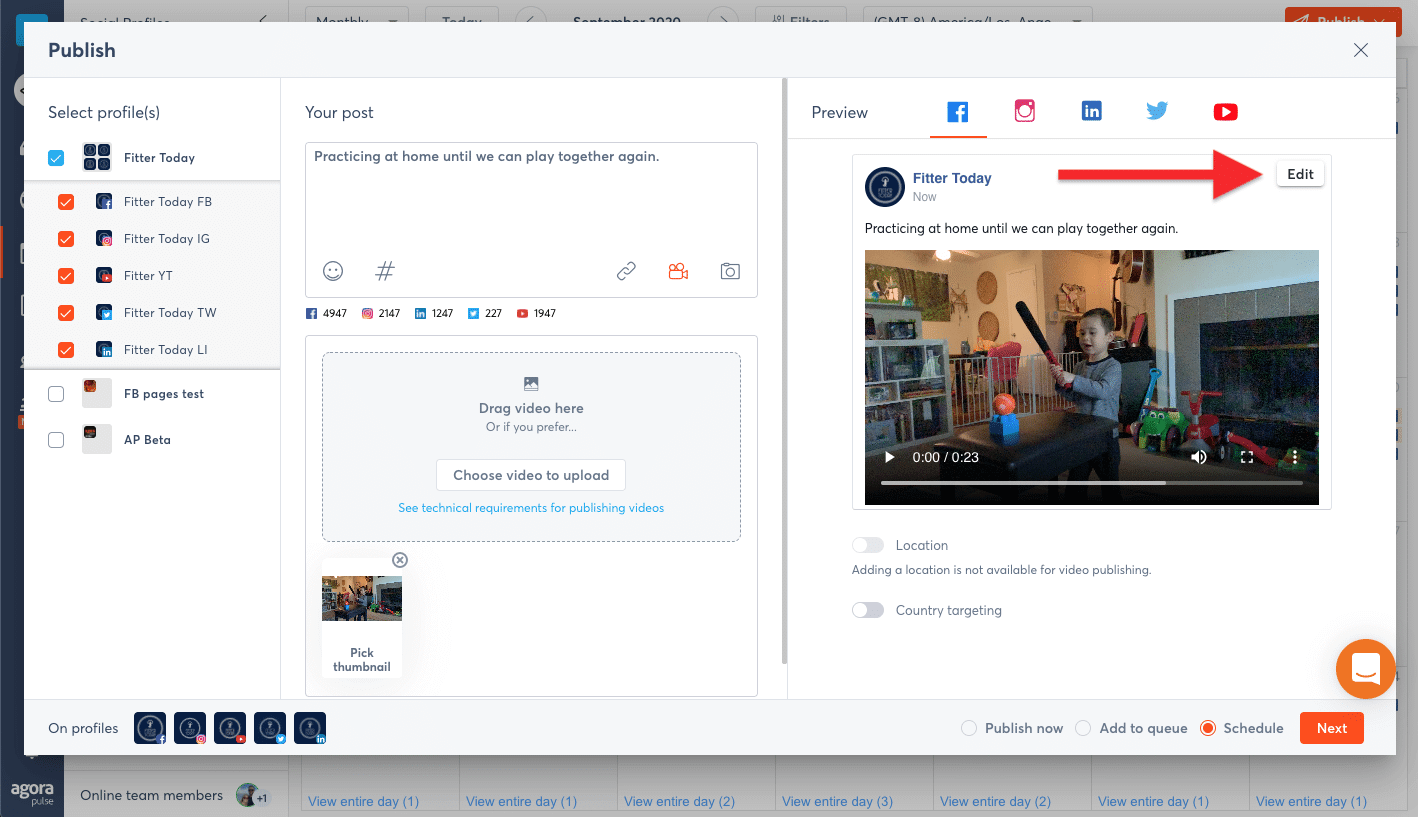 Scheduling and queueing posts
Select 'Schedule' and 'Next' to publish this post at a specific date and time.

Enter the date and time you'd like this post to be published on each of the profiles you selected.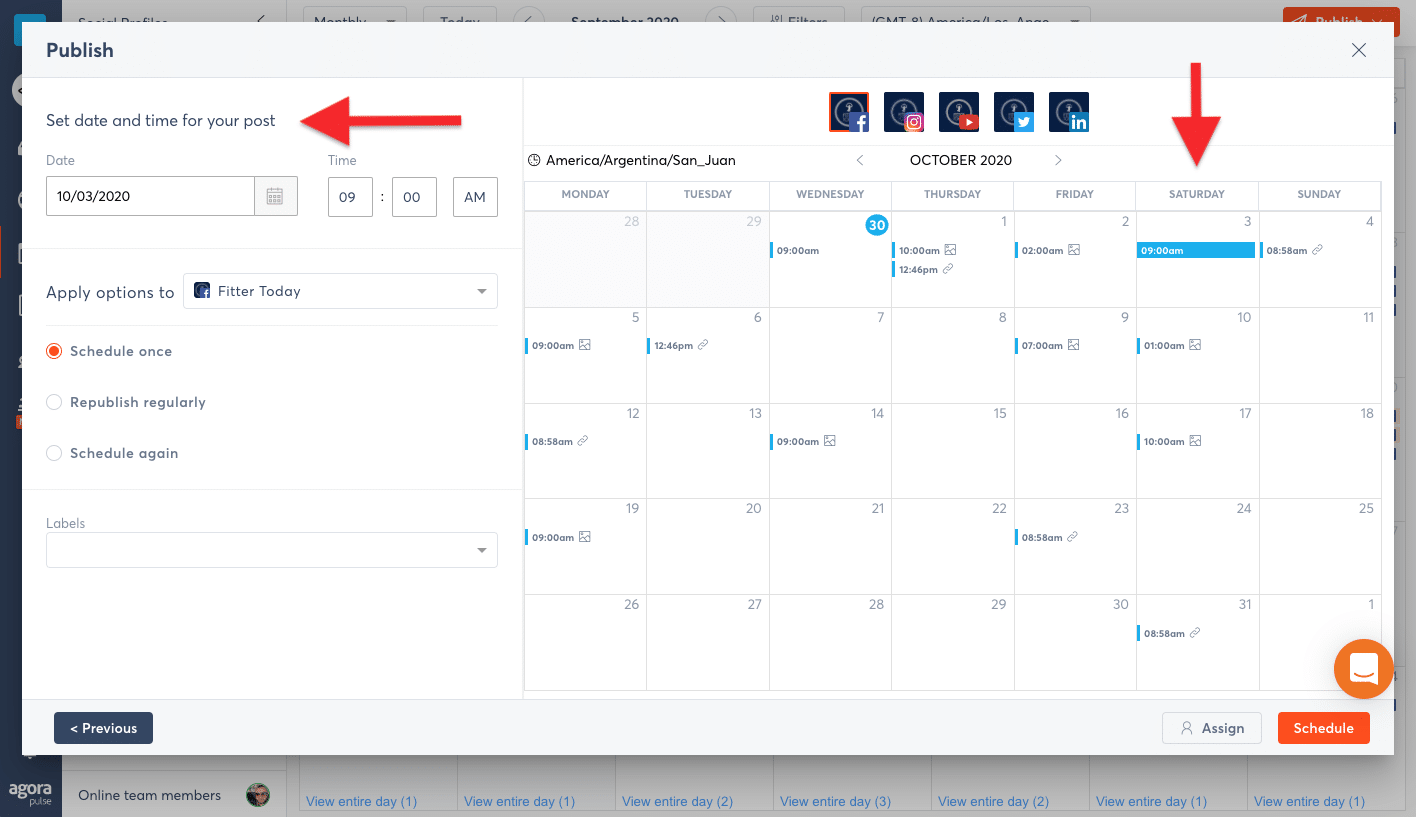 If you've got a good piece of content, you can set it to repeat…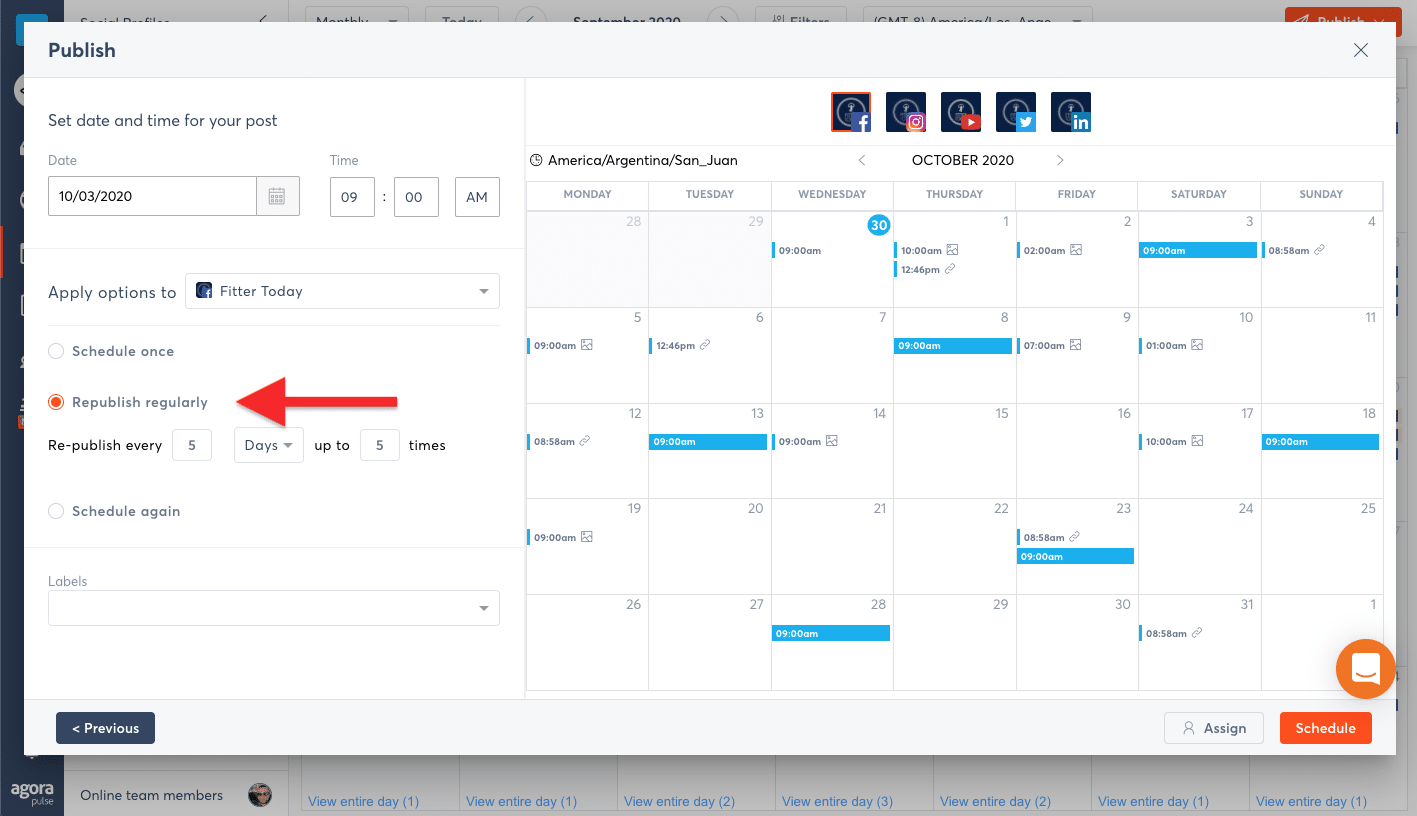 or, you can schedule this post again as many times as you'd like.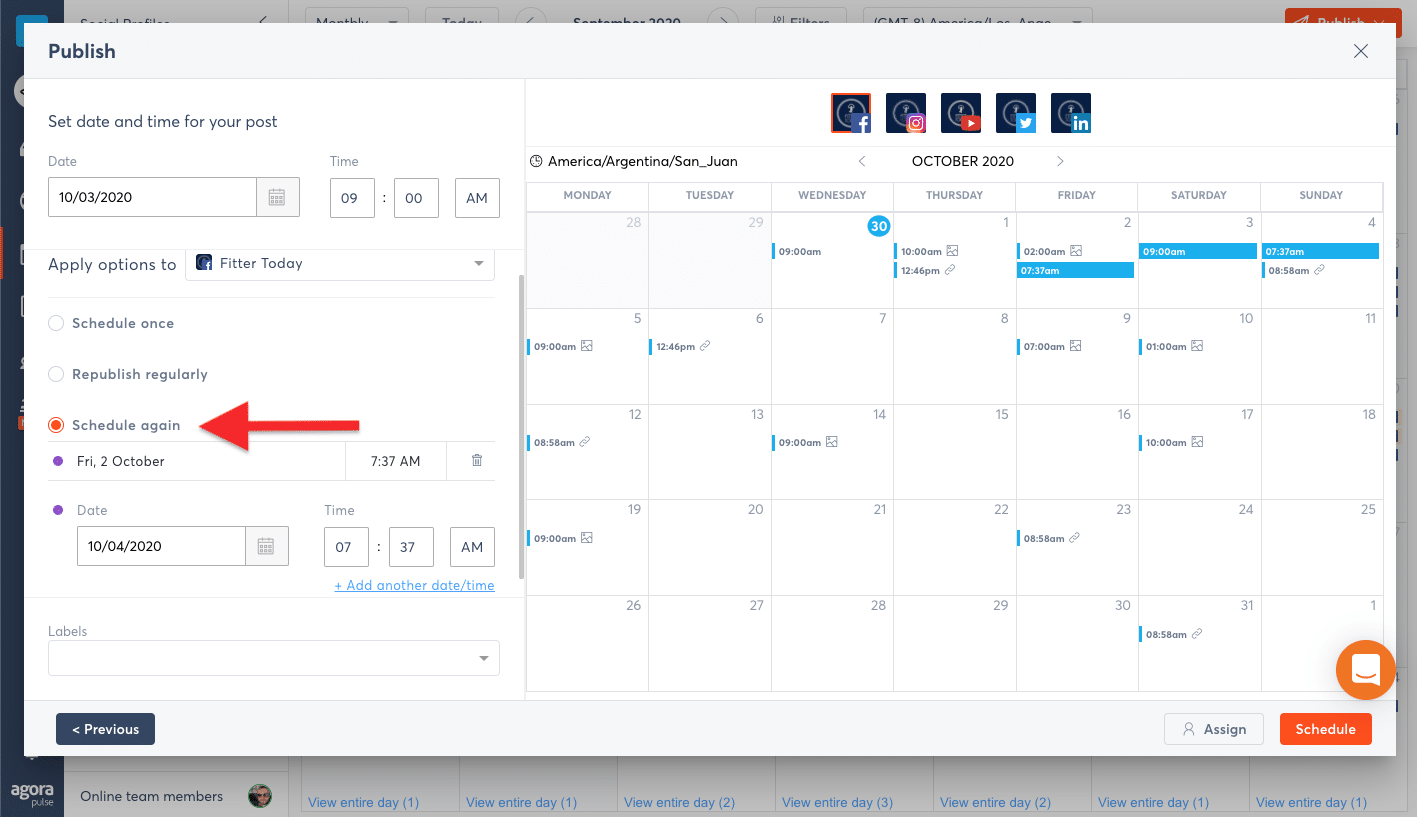 Click here schedule a post in another tab!
What's a queue?
Posts and tweets added to the queue will get in line for automatic publishing upon the next available recurring time slot. Automatic publishing time slots are predetermined by you in each profile's settings and can be separated into categories if you'd like.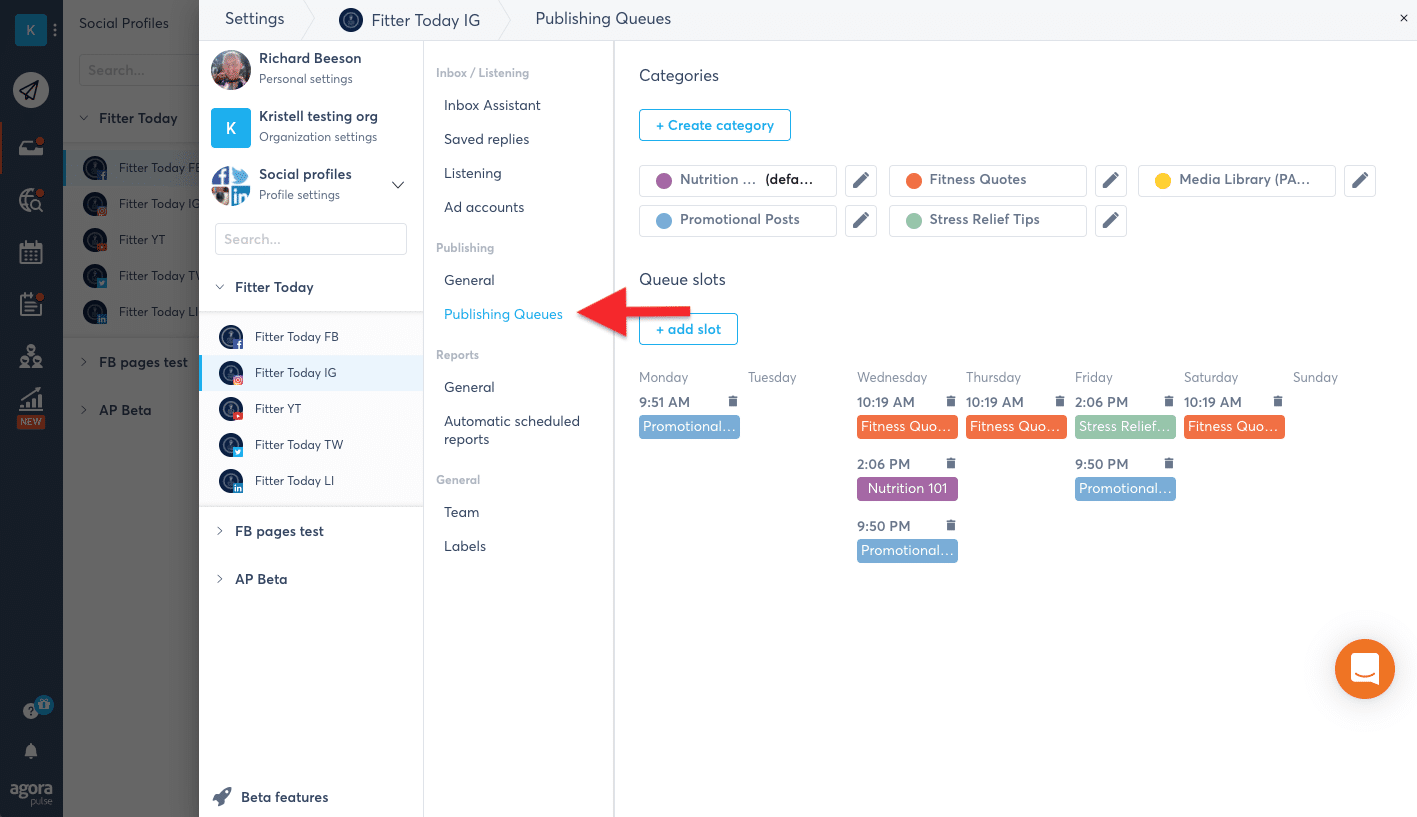 Click here for an in-app step by step walkthrough on setting up queue categories within Agorapulse.
Select 'Add to queue' and 'Next' to add this post to each profile's queue for automatic publishing.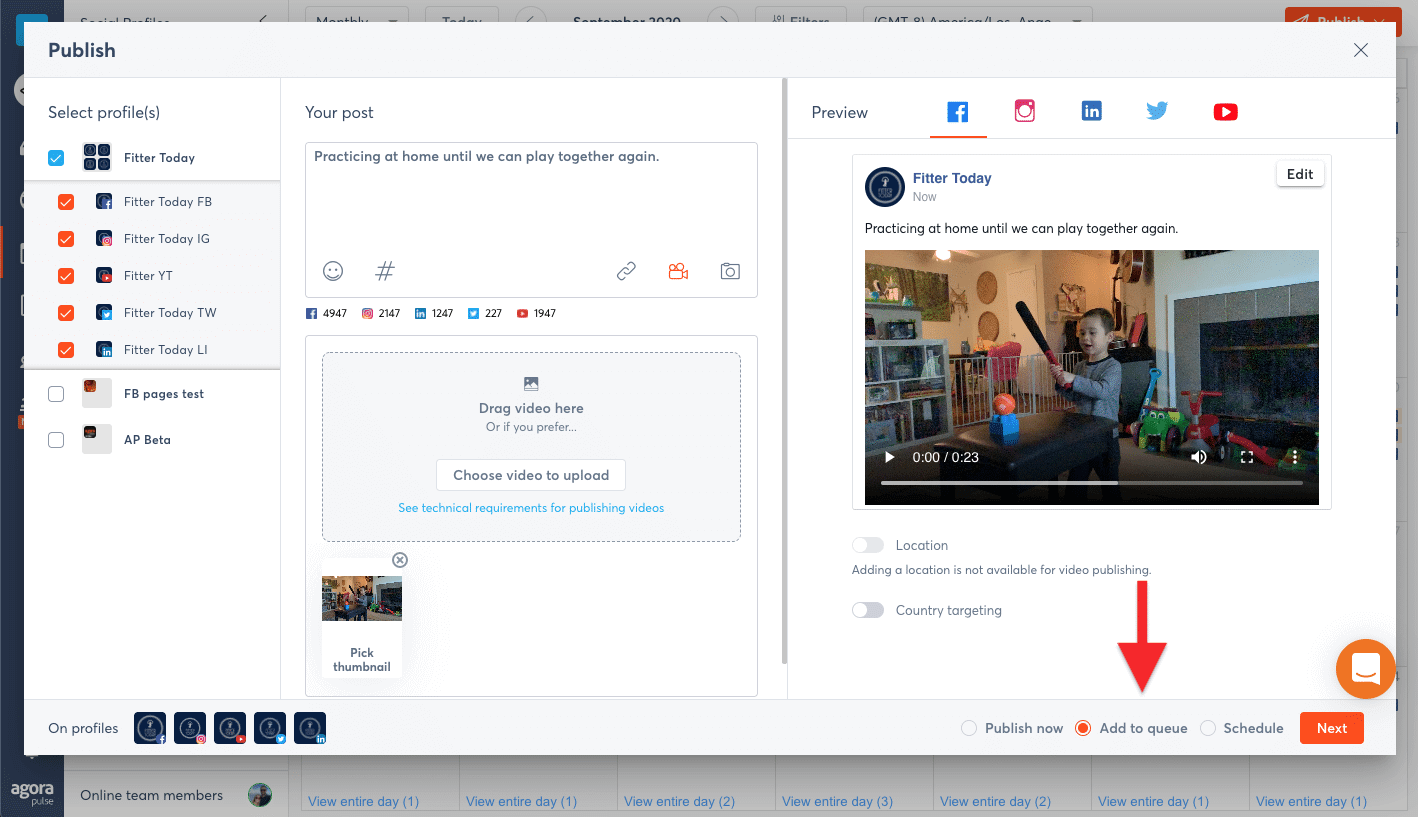 You can add this post to the top of each profile's queue to be published next or to the bottom of each profile's queue to be published last.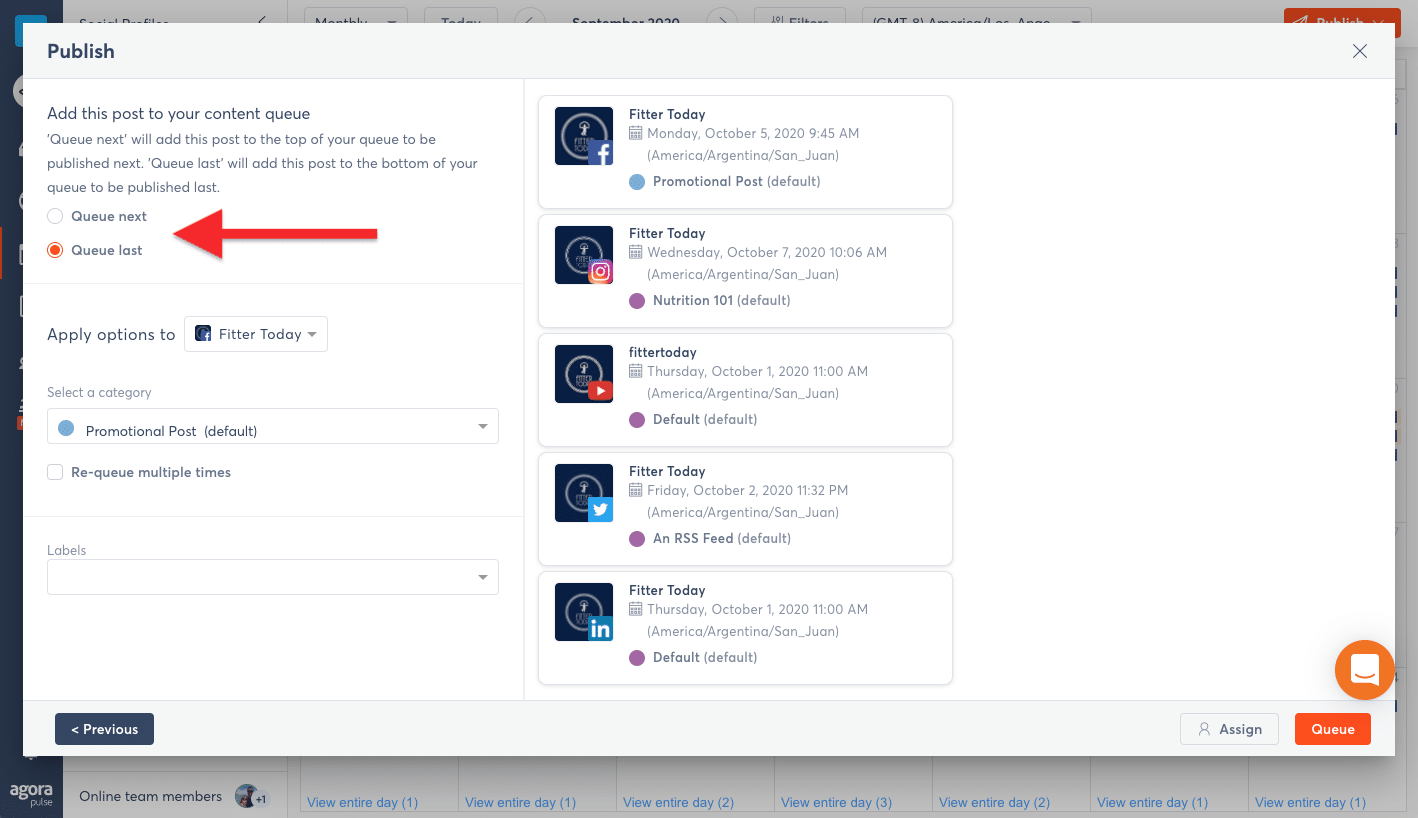 You can also set queued content to repeat automatically. Queued posts and tweets set to repeat will keep getting back in line to be published again for as long or as many times as you specify..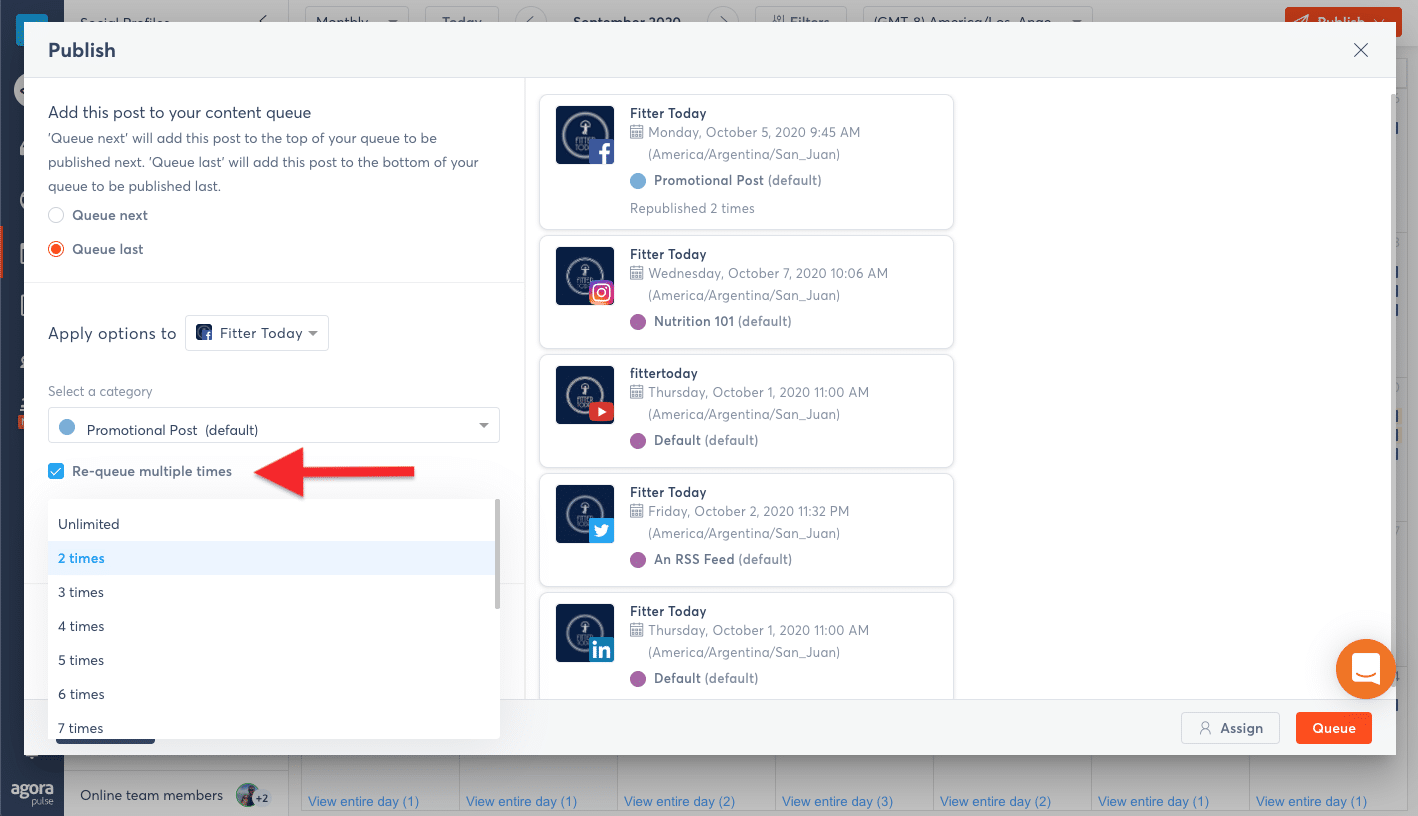 Bulk uploads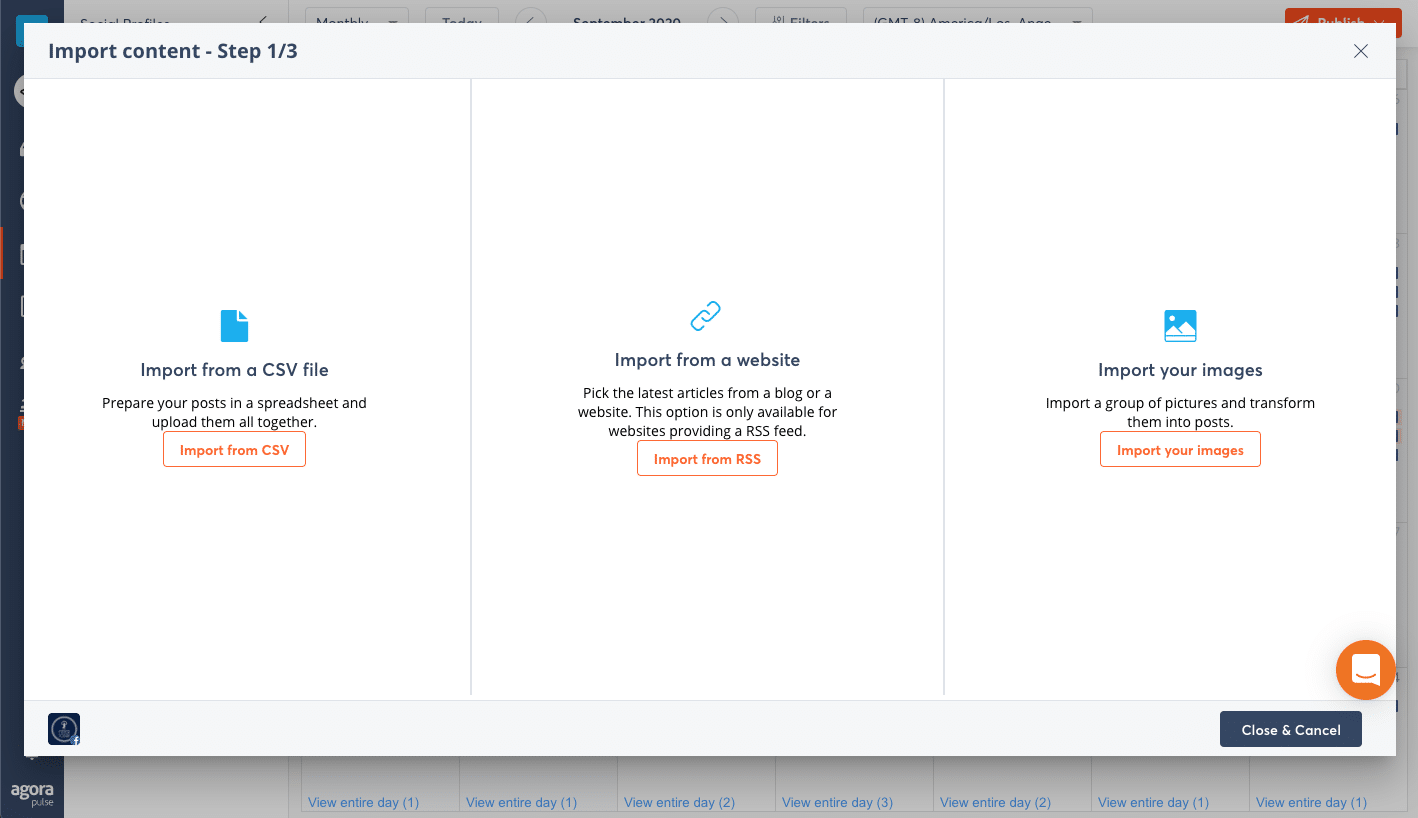 You can upload posts and tweets in bulk from a csv file to be queued or scheduled. If you're uploading content to be queued, you can save time by including these items only:
Text in Column A
Link in Column B (if applicable)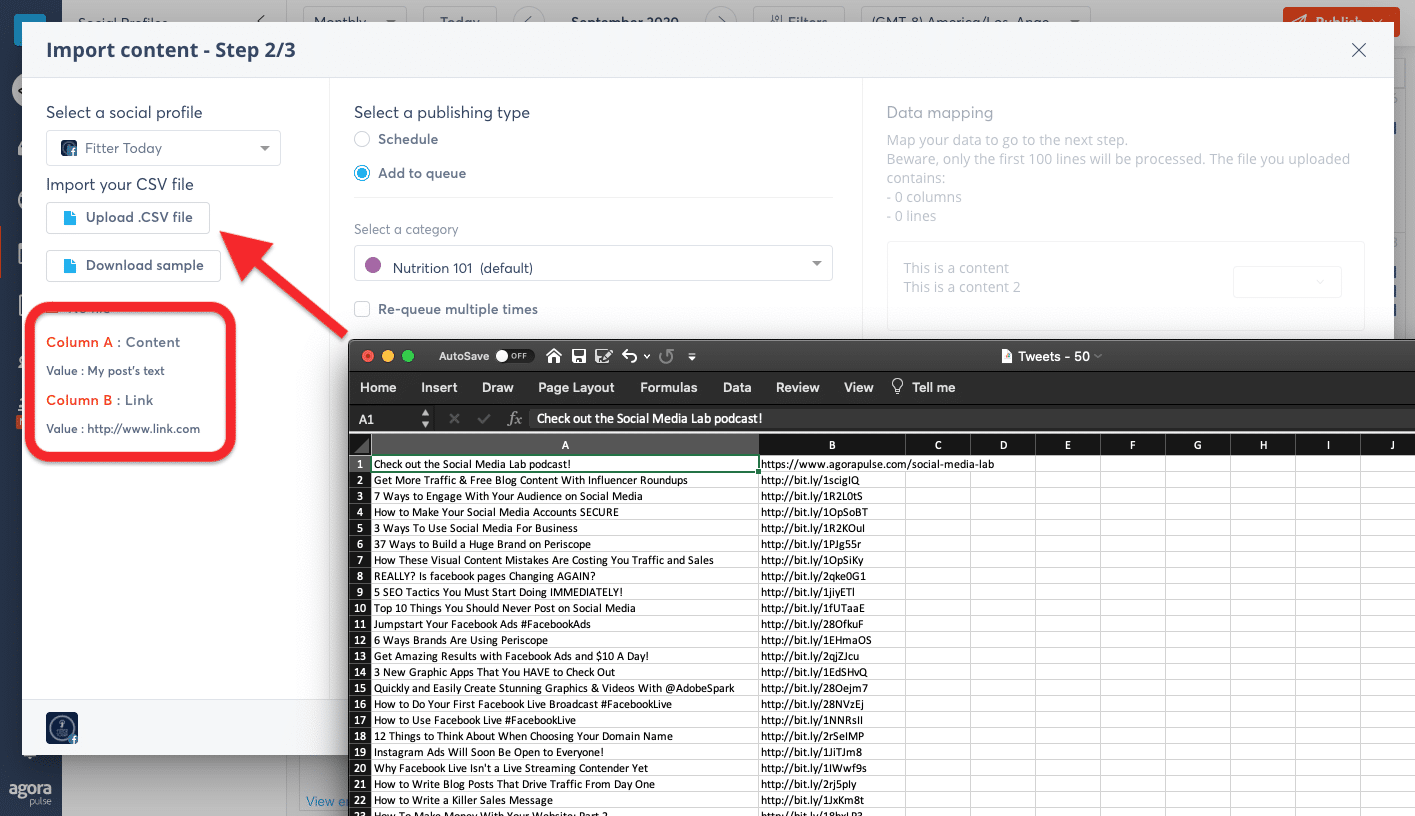 If you're uploading content to be scheduled, you'll need to include dates and times for each item in columns C and D of your worksheet.
If you're uploading content to be queued, you'll have the option to assign each item to a queue category individually or assign all items to the same queue category at once.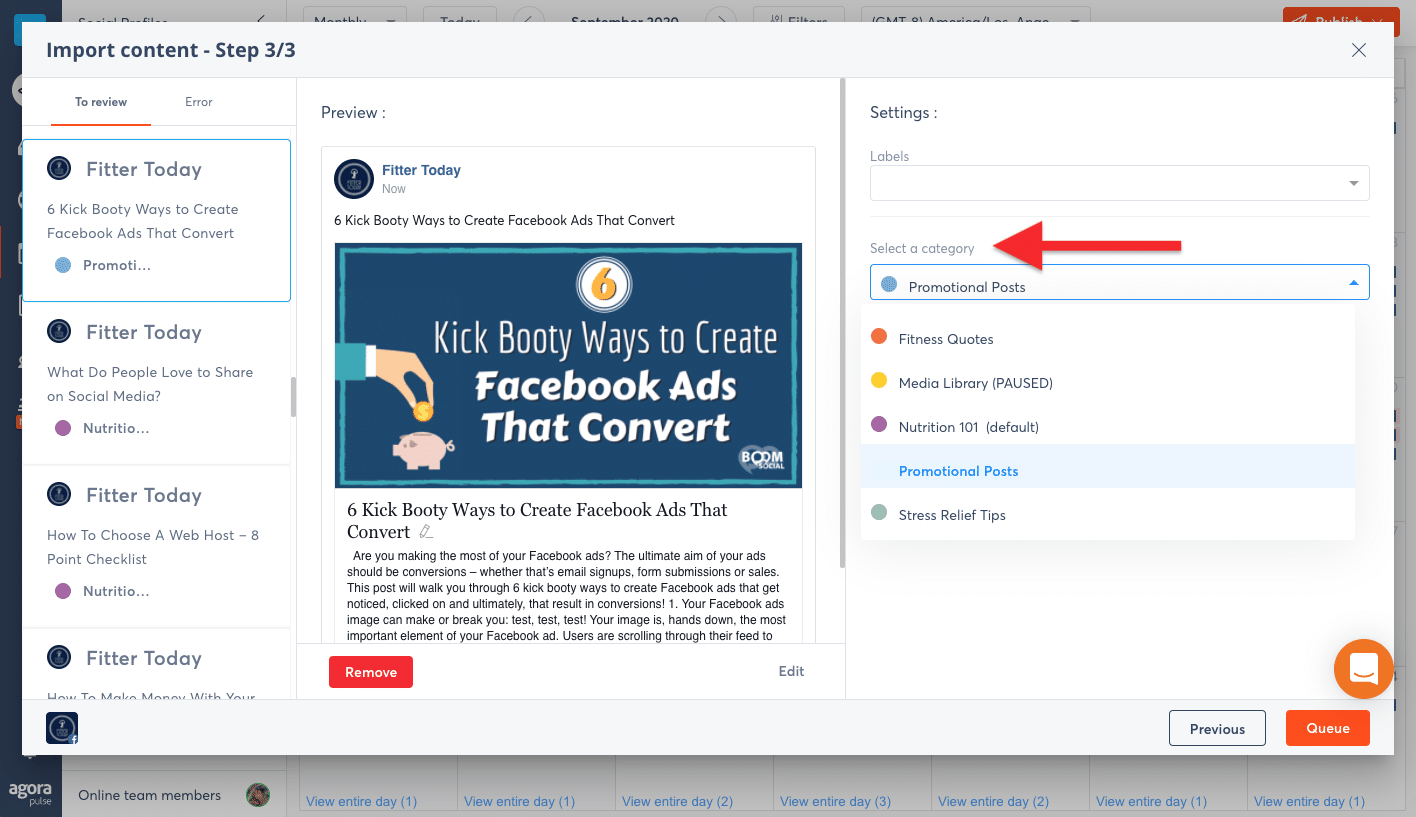 To upload images in bulk, just drag them to the box labelled 'Upload Images', and choose 'Schedule' or 'Add to queue'.

You'll then be able to craft posts out of each one and set them to repeat if you like.
The RSS option enables you to collect previous blog posts from a website or blog, select the ones you like and create posts out of each one to schedule or queue and repeat.

Unpublished posts and workflows
Whether you're publishing content now, queueing it, or scheduling it for later, you can send it to one of your collaborators for review or approval. Unpublished posts can be passed amongst multiple collaborators (one at a time) and edited by each one. These assigned posts will not publish until they are approved.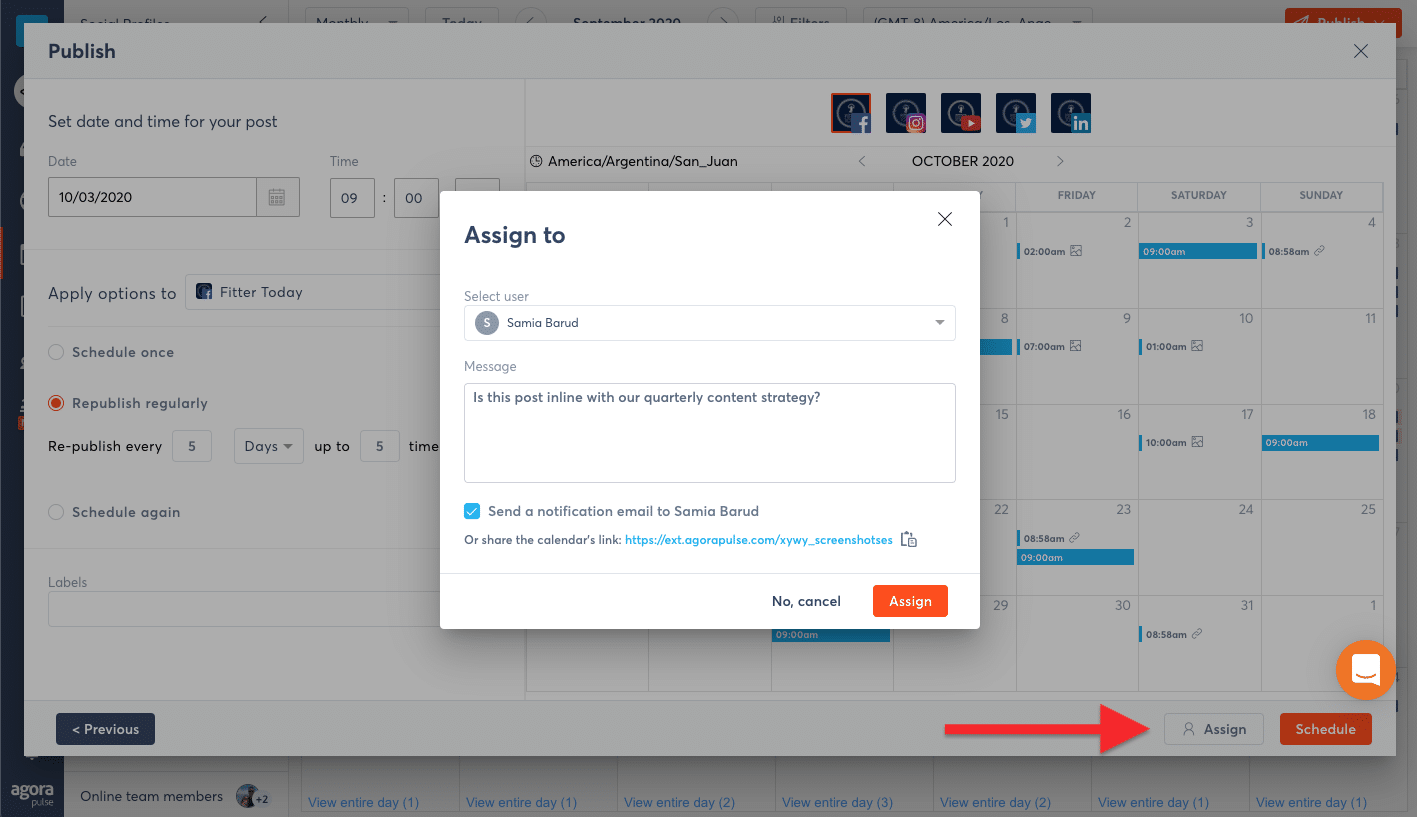 Using Agorapulse team roles can help you collaborate even more efficiently.
Agorapulse Moderators can create, queue, and schedule content only. Their content will not be published unless an Editor or Admin approves it.
Agorapulse Editors and Admins can not only queue, schedule, and publish content without approval, but they can also approve Moderator's unpublished content for publishing.
Agorapulse Admins can manage team roles from the Team menu.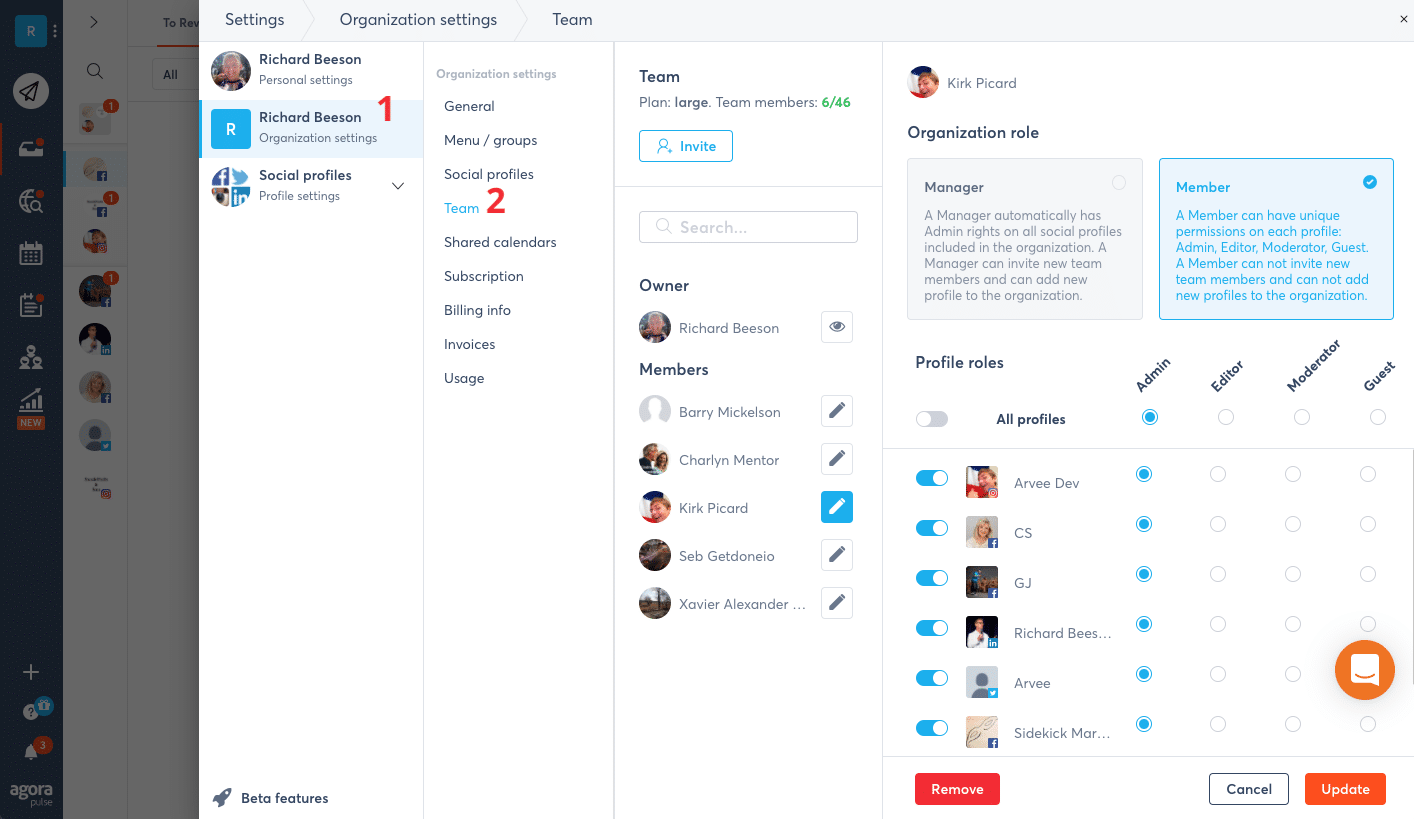 Labels
You can assign any number of custom labels to your posts as you're publishing them.
Your Reports will then show you which topics (label) reach and engage the best with your audience.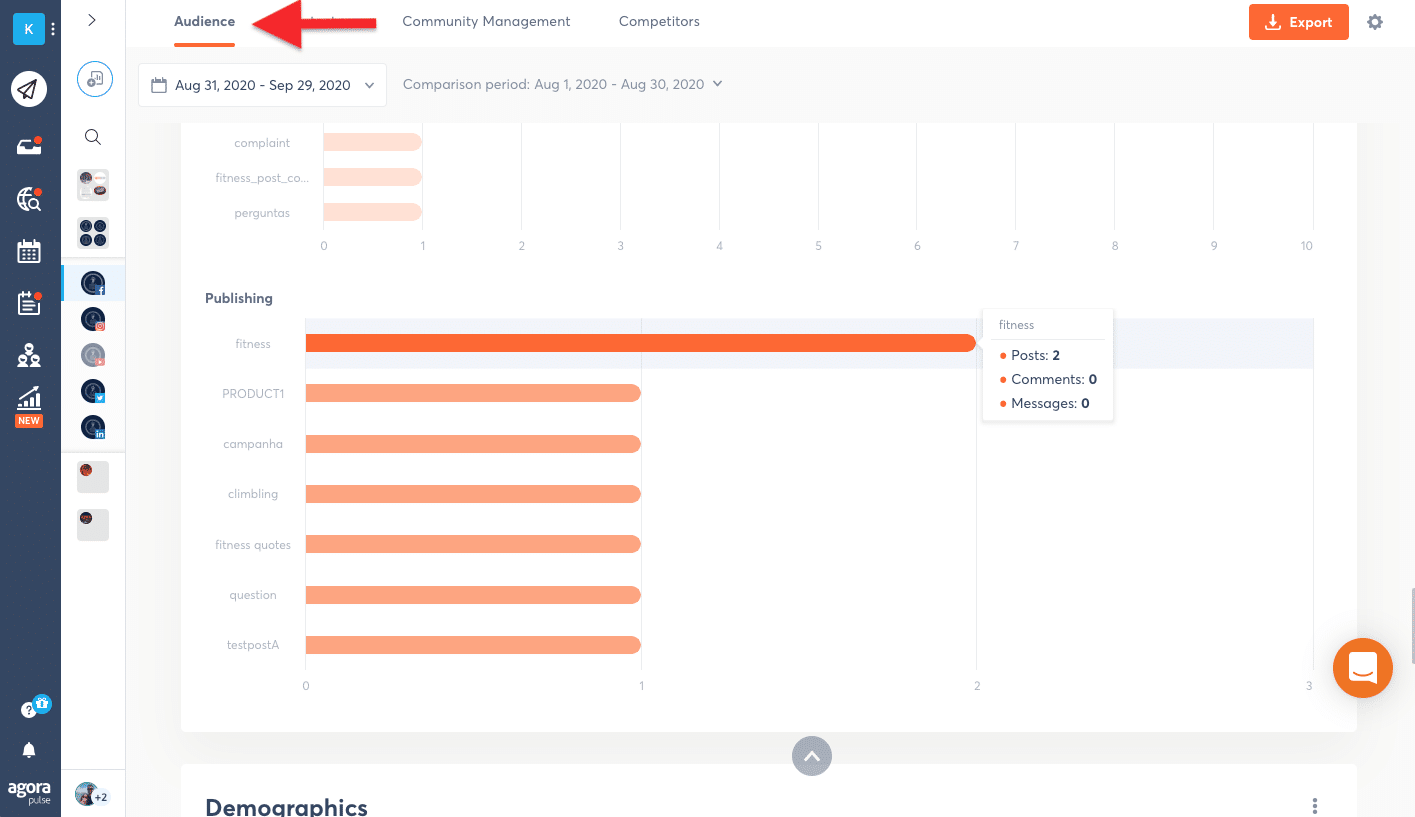 Custom Publishing Groups
You can create custom publishing groups for quicker publishing from the Menu/groups option in your 'Organization Settings'.
Click create new group
Title your group
Slide the appropriate profiles into your new group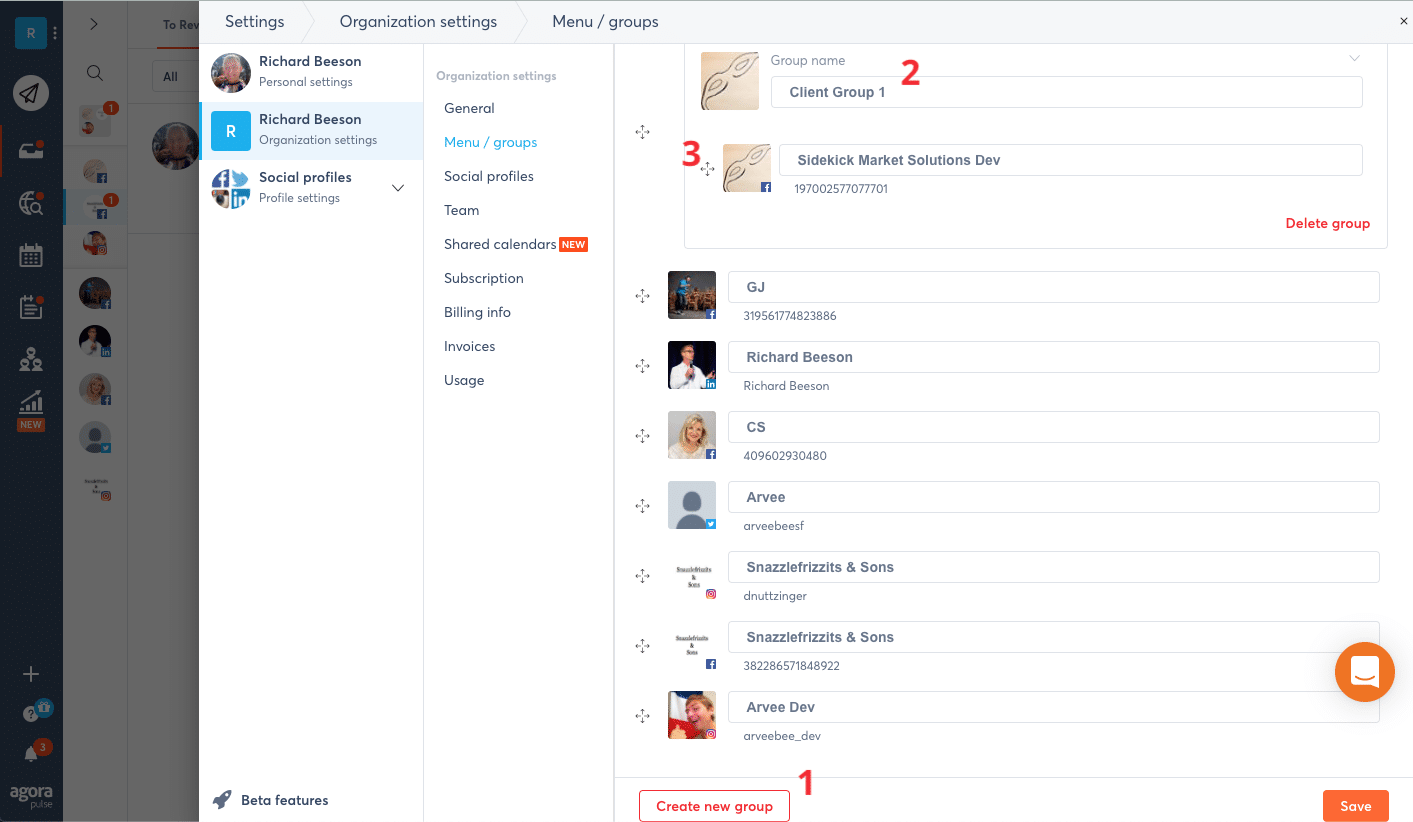 Now you can just select this group when creating content instead of selecting each profile individually.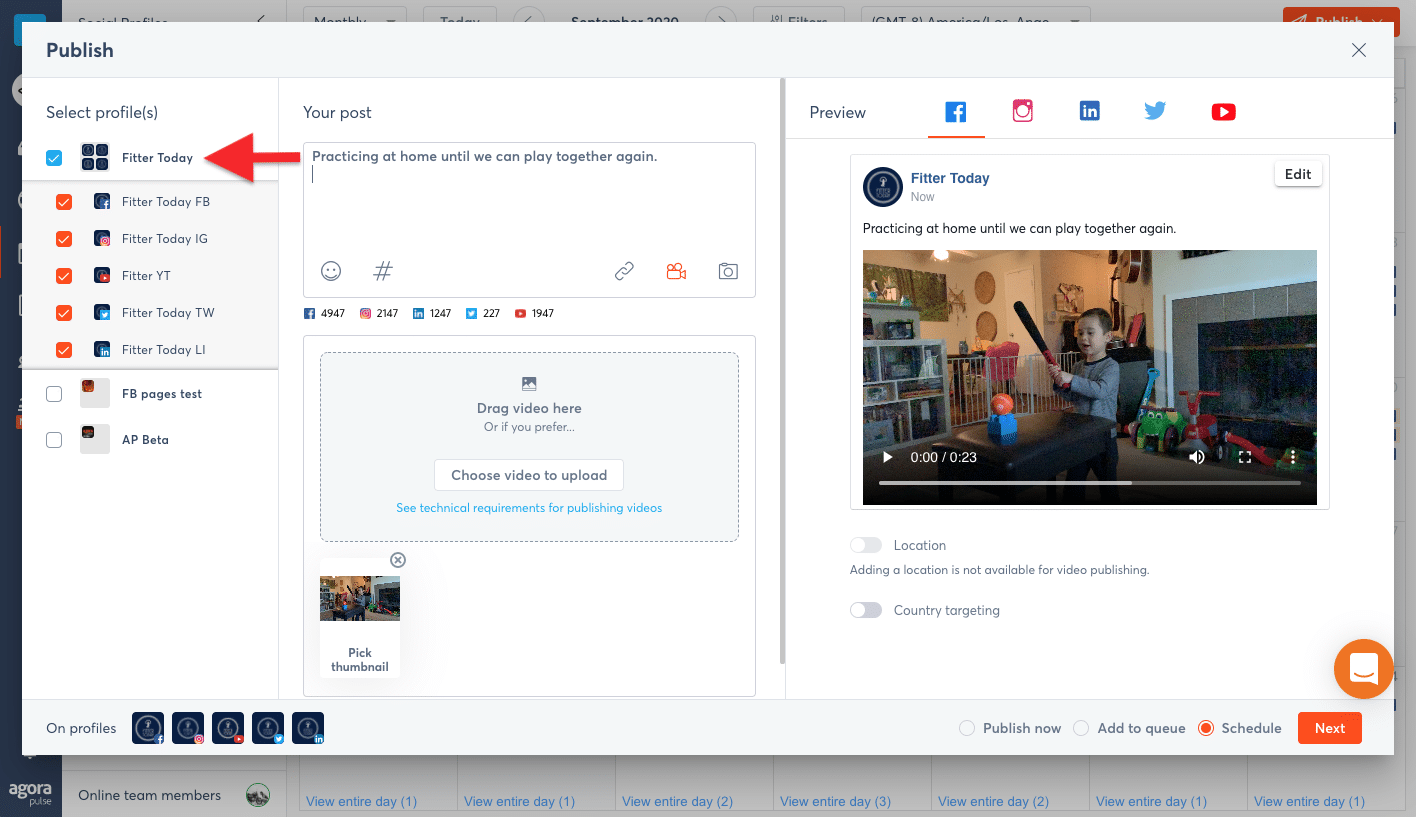 This is especially useful for agencies and consultants who manage client groups.
Managing queued and scheduled posts
Drag and drop scheduled items on the calendar to re-schedule or hold shift while dragging any scheduled item to copy it to another date.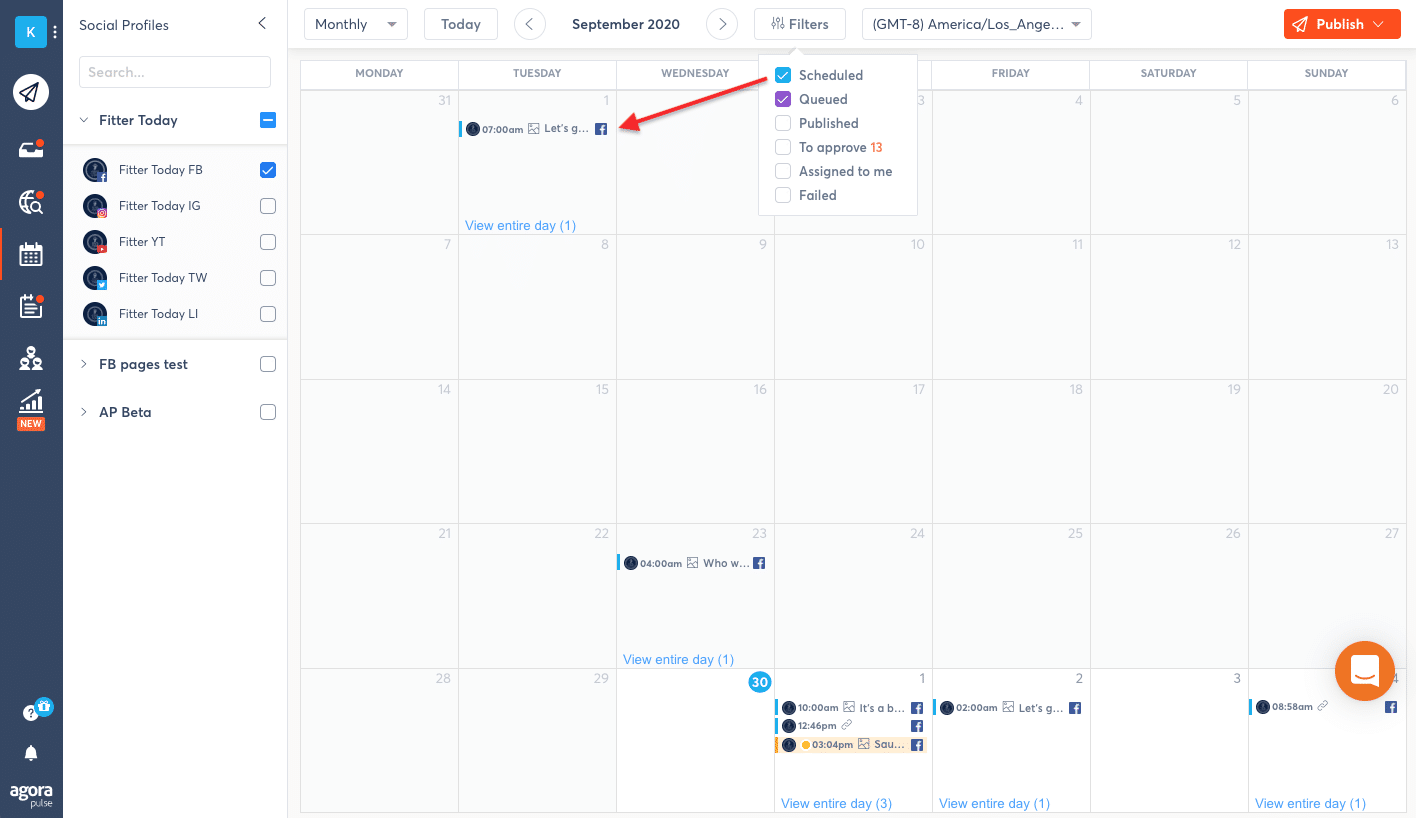 The Publishing lists menu provides a view of each of your queue categories and their current content. Drag and drop queued items to change their order or move them to a different category. Click on any item to edit or delete it.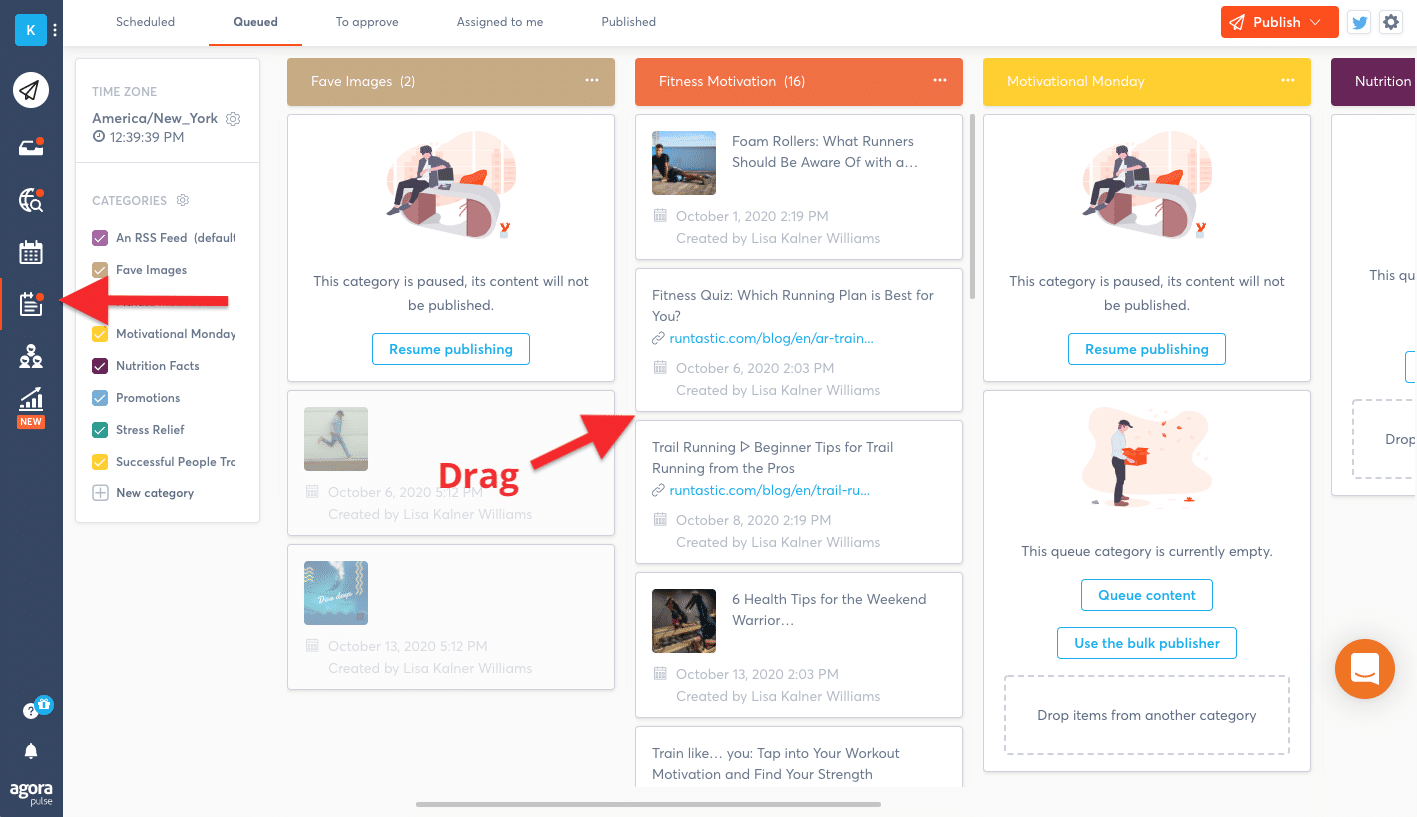 Click on any scheduled or queued item to edit, delete, or assign it to another team member with a custom note.
Publishing on the go with the Chrome Extension
You can access the Agorapulse publisher from anywhere on the web. If you add the Agorapulse Chrome Extension to your browser, you can easily grab snippets, full posts, or articles while browsing to publish, schedule, or queue.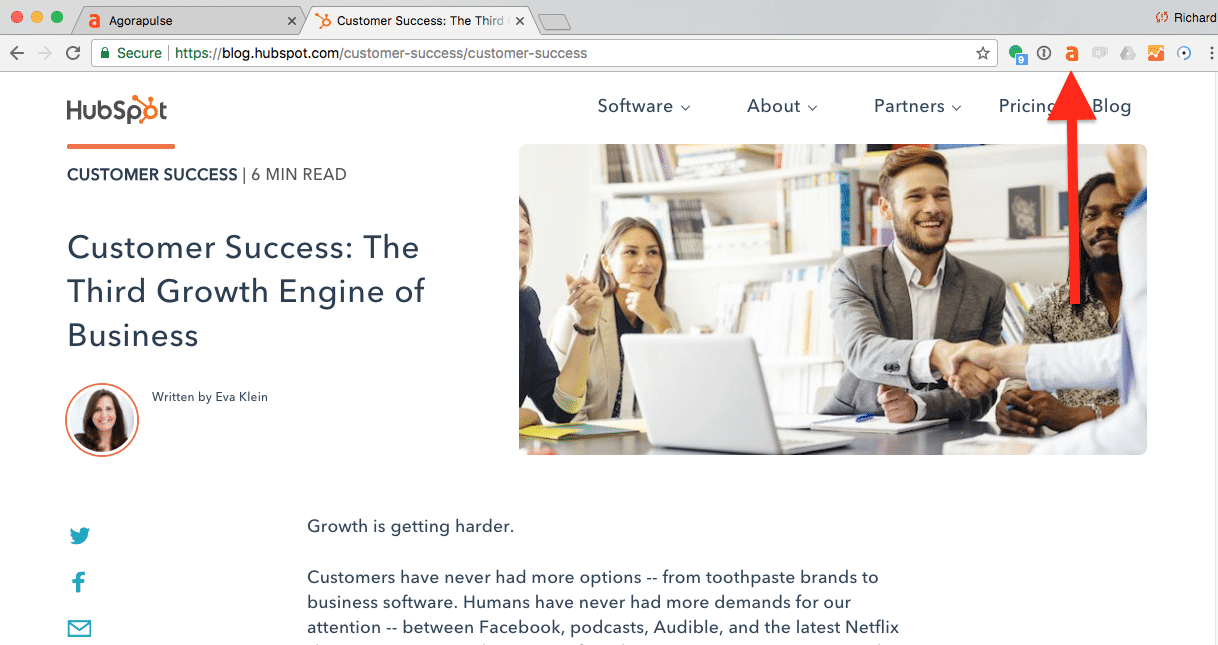 You can download the Chrome Extension here.
The following video will walk you through your social Publisher in 2 minutes.